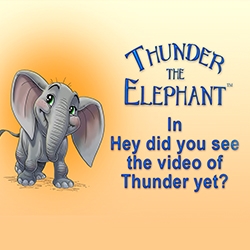 Pensacola, FL, April 16, 2018 --(
PR.com
)-- Adorable, sweet, and just lovable! Meet Thunder, a baby elephant, that is touching the hearts of viewers throughout the internet with a series of 30 second animation shorts. Thunder the elephant and his animal friends are sure to make a mark as they teach our children about the dangers these majestic creatures face every day.
The brainchild of Thunder the Elephant, Erik Daniel Shein, an animal health care advocate and middle grade author, says, "Our goal has always been to bring Thunder to the classroom through written word as well as via technology that transports our viewers into Thunder's world. Our first step was to create Thunder in a way that captured his spirit from start to finish. With Arkwatch Holdings LLC and World Castle Publishing and Len Simon Animation, all under one umbrella, our goal is to bring him to life."
These stunning animation shorts are being produced and directed by Len Simon Animation LLC. Len has worked on more than a dozen classically animated feature films. Those films include Prince of Egypt, Spirit: Stallion of the Cimarron, 8 Crazy Nights, Fat Albert, Curious George, The Nut Job 2, just to name a few. The adorable voice of Thunder is being done by the daughter of Melissa Davis. Her name is Seraphina.
World Castle Publishing wants the masses to embrace Thunder as a global icon to stop poaching and to saying no to trophy hunting. From infancy to adulthood, his adventures can be found in the four-book series, Thunder: An Elephants Journey from Authors Erik Daniel Shein, L.M. Reker, and Melissa Davis. Saving endangered species worldwide one story at a time!
The video will warm your heart:
youtu.be/vHIq9hvb0vY
arkwatchholdingsllc.com
arkwatchfoundation.org
officialthundertheelephant.com
erikdanielshein.com