Xsolus Heads Crowdfunding Campaign: Blockchain Services and Product Ecosystem Development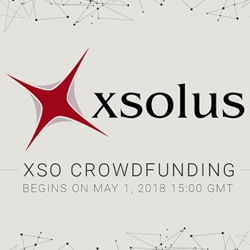 Panama City, Panama, April 16, 2018 --(
PR.com
)-- Xsolus, a blockchain solutions company, offers its cryptocurrency crowdfunding campaign beginning May 1, 2018 at 15:00 GMT. The campaign is set to run for 4 weeks until May 29, 2018, or until all coins are sold out.
The crowdfunding campaign aims to provide an opportunity for potential partners, customers, users and enthusiasts to participate using Bitcoin (BTC), Ethereum (ETH) or other cryptocurrencies in exchange for Xsolus (XSO) coins in order to raise funds for the development of Xsolus' product ecosystem of tools and technologies, and to expand Xsolus' services capabilities.
Participants in the crowdfunding campaign can use XSO coins on Xsolus' Coin Of The Realm (COTR) blockchain to pay for Xsolus' products and services, and trade them on cryptocurrency exchanges; including Xsolus' own BULLBEAREX decentralized cryptocurrency exchange. XSO coin holders are also given exclusive rights to participate in private pre-sales and/or first rounds of future Xsolus and InventCrypto (IC) incubator partner crowdfunding events.
Xsolus' crowdfunding campaign will be conducted on Xsolus' own multiple simultaneous Crowdfunding Platform (CROWDFUND). Subsequent rounds for the current crowdfunding campaign may happen sooner based on demand. For updates and announcements on Xsolus' crowdfunding campaign, please visit
https://xsolus.com/crowdfunding
or contact us through the details provided below.
About Xsolus
Xsolus is an IT solutions company specializing in blockchain technology applications, web and mobile app development. Headquartered in Panama, Xsolus has a global presence spanning across Hong Kong, Singapore, Philippines, Canada and the United States. Comprised of solution architects, software developers, UI/UX designers, and cryptocurrency enthusiasts, Xsolus believes in the power of decentralized systems, democratic finance, censorship resistance, transparency, and innovation.
Some of the products Xsolus is currently developing include an open source blockchain platform, a decentralized cryptocurrency exchange, a crowdfunding/ICO platform, and a wallet and payments solution. The founders of Xsolus have nearly 50 years of combined experience in building IT solutions.
For further information about Xsolus, visit
https://xsolus.com
.
Contact
Xsolus Inc.
Tinny Quirante
+507-833-7414
https://xsolus.com

Contact