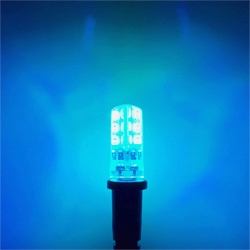 Troy, MI, April 20, 2018 --(
PR.com
)-- Prop and Scenery Lights new Ocean Blue bulb combines twelve blue LEDs and twelve green LEDs in a compact clear molded silicone resin bulb. This unique bulb provides cyan color projected light with a variegated blue and green light on nearby surfaces. The Ocean Blue bulb has a nominal light output of 40 lumens.
The compact 12-volt DC bulb is kitted with an EEL (enhanced effects light) five-foot-long cable socket. The unique socket design press fits into a 7/16" hole in prop and scenery building materials which allows quick building of water themed scenery. The tapered fit of the socket body locks it into place, and a front 5/8" diameter flange provides an insertion stop. Lock ribs on the taper provide for anti-rotation of the socket in the material. This
kit part number EEL1-1.5M-SBL2-OB-1P
includes the Ocean Blue LED bulb and the five-foot cable socket.
The 12-volt DC 1-watt bulb enables the creation of dynamic effects from various low voltage lighting control equipment. The cable socket features a DC barrel type power connection. The industry standard 2.1mm x 5.5mm DC barrel connector also allows the light kit to mate with battery packs, switches, and controls for lighted costume applications. The Ocean Blue LED bulb is the newest in the PSL series of G4 style low voltage Silicone Bi-Pin bulbs. The other colors in the series are: cool white, red, green, blue, amber, ember orange, and purple.
Applications:
Theatrical scenery
Themed environments
Stage props
Filmmaking
Amusement park projects
Lighted costumes
Museum exhibits
About PSL:
PSL provides niche special effects lighting products related to props, scenery, and themed environments. At PSL, our products are focused on enhancing the "art of design" in creative lighting projects. Many products we offer are unique designs centered on applications related to the building of props, scenery, and themed environments. Our specialty lighting can help you achieve the atmosphere needed in your creative lighting project.
www.propscenerylights.com