TechRestore Announces New Advanced Care Service Solution for Technology Deployed in Education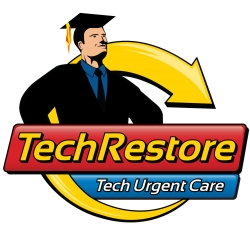 Louisville, KY, April 26, 2018 --(
PR.com
)-- TechRestore has just announced a new product for Education customers – TechRestore Advanced Care aka "TRAC." This is the first Advanced Care service solution designed to protect technology in the classroom. As an alternative to AppleCare Plus or other insurance coverage, the goal of TRAC is to eliminate downtime, deductibles, incident and shipping fees and the worry about exceeding budget constraints.
Schools that deploy technology in the classroom can experience advanced care in three different solutions, including a 2-Year, 3-Year, and 4-Year Advanced Care agreement. These three solutions offer care and accidental damage protection for all Apple portable devices and Chromebook machines as well. For one flat fee per device, TechRestore provides a protective case, a loaner pool of like devices, complimentary repairs and free shipping.
TRAC is the result of working with schools and districts across the country over the past 14 years. They have effectively tailored their quote, repair, invoice and billing systems to each client based on their needs. A common worry for Tech Coordinators is how to balance the cost of quality repairs with budget constraints and how to minimize the amount of time students or teachers are away from their device. These coordinators also have to balance and make the most use of their time, which can easily be wasted navigating insurance provider's red tape, verifying coverage, waiting for approval of a claim and keeping track of its progress through the repair. All this time is a precious resource that could be better spent focusing on the reason we have this technology in schools – the students.
TechRestore's Advanced Care service addresses these and many other concerns in a way their customers are accustomed to: up front, no hassle and trustworthy.
With a dedicated account specialist and certified technicians to handle the repairs, schools can feel confident their devices are in good hands. With over 50-years of certifications and thousands of completed repairs, TechRestore is ready to overcome any hesitation.
According to Jeff Jewell, President of TechRestore, "Our new TRAC program builds on our experience repairing Apple Computers, iPads and Chromebooks over the last decade." He goes on to say, "With the launch of TRAC, schools and districts across the nation can now experience both the high speed and unmatched customer service that TechRestore is known for with a fixed, one-time cost."
Perhaps the most noticeable benefit of the TRAC program is its cost, which starts as low as $59 per device. At that affordable price, schools receive a premium protective case, all functional repairs, and free shipping. According to Jewell, many of their school customers have been asking for a solution and today, TechRestore delivers it.
Amidst the turmoil schools and districts face with cutbacks and budgetary concerns, the timing of this announcement couldn't be more relevant. TechRestore is extremely excited about this addition to their family of services designed specifically to provide top tier service to the education sector.
About TechRestore:
Created out of a passion for the products we sell and service, TechRestore brings together an unmatched repair and product expertise team to provide sales and support for portable electronic devices such as Apple and Chromebook computers, iPad, iPhone and more. With over 15-years of experience providing solutions for our customers, we've still kept our sense of wonder about how fortunate we are to work with these fantastic products and people each day. TechRestore customers can rest assured that while their products may fail them, TechRestore never will.
For more information, please contact:
Company: TechRestore
Website: http://techrestore.com
Phone: 1-888-64-RESTORE ext. 101
E-mail: press@techrestore.com
Contact
TechRestore
Jeff Jewell
502-398-6456
www.techrestore.com

Contact