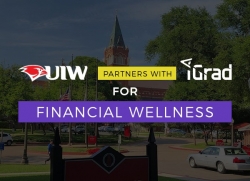 San Diego, CA, May 03, 2018 --(
PR.com
)-- The University of the Incarnate Word (UIW) is partnering with iGrad to offer a comprehensive and adaptive financial education platform to its largely non-traditional student population.
iGrad, a private company based in San Diego, is a leading provider of interactive and adaptive online
financial wellness platforms
for universities, companies and financial institutions. Its financial wellness education platform for college students, also called iGrad™ is used at more than 600 colleges and universities nationwide.
Located in San Antonio, the University of the Incarnate Word is a private Catholic university with over 8500 domestic undergraduate and graduate students, including a large non-traditional population.
Cristen Alicea, UIW financial aid assistant director, said that preventing student loan defaults is a primary motivator in offering iGrad's financial literacy platform.
"Our student population is over 50 percent Hispanic, and 99 percent of our students receive financial aid," she said. "Studies show that 44 percent of Latino borrowers default or are delinquent on their student loans. Since financial literacy relates to the default number, iGrad works together with our default management program."
Included in the iGrad platform is a student loan tracking tool which aggregates student loan balances and estimates monthly payments, helping to prepare students for these payments after graduation.
"We are excited about our partnership with UIW," said iGrad Executive Vice President Kris Alban. "The student demographic is very compelling. Non-traditional students are at the biggest risk for default. iGrad can have a lifelong impact and create change in their financial behavior. We will be watching their usage and knowledge gain on the platform."
Designed around a proprietary behavioral algorithm, iGrad personalizes financial information for each student's situation and needs. It also offers tools, quizzes, videos, articles and a library of multimedia content.
With the large UIW student population of active-duty military and veterans, graduate professionals, adult, evening, weekend and online students, iGrad's comprehensive and adaptive content appeals to a broad demographic.
iGrad adapts to each student's specific circumstances, even providing interactive educational content on retirement and mortgages to those who need it.
iGrad is a three-time winner of Education Program of the Year (The Institute for Financial Literacy), Best Product award for three years running (University Business Magazine), as well as the Outstanding Consumer Information Award (AFCPE). For more information, visit http://schools.igrad.com/
About UIW
With over 130 years of tradition, the University of the Incarnate Word is committed to educational excellence in a context of faith in Jesus Christ, the Incarnate Word of God. UIW programs constitute a liberal education that fosters a well-grounded intellectual resilience, a disposition toward lifelong learning, and an acceptance of responsibility for the ethical consequences of our ideas and actions. UIW is the largest Catholic university in the state and the fourth largest private university in Texas. The main campus is in the heart of San Antonio's Alamo Heights, with additional locations throughout San Antonio, South and Central Texas, two campuses in Mexico and a European Study Center in Heidelberg, Germany. UIW is a leader in international education, with 140 "sister schools" in 44 countries. UIW is a sponsored ministry of the Sisters of Charity of the Incarnate Word. For more information about UIW, visit http://www.uiw.edu/