Virun® NutraBIOsciences® and Algarithm™ Ingredients Launch O3Omega™ Smoothies in Canada; Patent for Viruns' Spray-Dry Technology Receives Notice of Allowance in U.S.
Virun® NutraBIOsciences® and Algarithm™ Ingredients Announce O3Omega™ Smoothies Line Picked Up by Canadian Retail Giant Co-op so People Can Enjoy Plant-Based Omega 3s Every Day, the Easy Way, Notice of Allowance for Patent Covering Spray-Dried Powders Containing Non-Polar Compounds.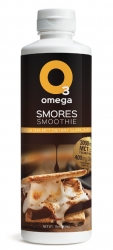 Pomona, CA, May 10, 2018 --(
PR.com
)-- Virun NutraBIOsciences(R) is actively working with Algarithm(TM) Ingredients in Canada to bring O3Omega(TM) Smoothies to market, while Viruns' patent application for technology that converts volatile oils into dry, stable powder obtains yet another Notice of Allowance from the USTPO.
In June 2018, Federated Co-operatives Limited (FCL) will begin selling O3Omega(TM) Smoothies in Co-op Stores across Canada. FCL is a wholesaling, manufacturing, marketing and administrative co-operative owned by 200 independent retail co-operative associations including agro centers, food stores, gasoline and convenience stores, and home centers. "This is a fantastic opportunity," stated Ben Kelly, Co-founder and Managing Director of Algarithm(TM) Ingredients, "the Canadian market is hungry for foods with functional attributes and healthy profiles, but flavor and alternatives to fish Omega 3 can be hard to come by. O3Omega(TM) Smoothies is going to change that. Now you can have a dietary supplement for brain and eye health, keto friendly, with amazing flavor, and plant-based Omega 3, all in a one-tablespoon serving." According to Kelly, 70 Co-op stores in Canada will be offering two flavors of O3Omega(TM) Smoothies; Breakfast Flavor and S'mores Flavor.
With 3,000mg MCT, 400mg vegetarian algal DHA and 2g protein per 1 tablespoon serving, O3Omega(TM) Smoothies are an easy and flavorful way to enjoy plant-based Omega 3s every day. The smoothies are gluten free, sugar free, and vegetarian. All materials used to produce O3Omega(TM) Smoothies are sourced from sustainable components. Philip Bromley, CEO of Virun NutraBIOsciences(R), explains, "Algarithms' Omega DHA is sustainably sourced from algae, as opposed to fish oil omega which endangers declining marine fish populations. Additionally, we use MCT sourced from coconuts instead of palm oil. Palm oil production is a major cause of rainforest destruction and deforestation." Bromley continued, "And, this is only the beginning. Coming soon are our new vegan formulations, which feature natural vegetable, non-GMO protein that yields savory flavors as well as sweet. Two vegan flavors we are adding to our menu include not Peanut Butter and Jelly Sandwich with real almond butter, and Caramel Swirl. It's hard to believe there is 400mg DHA and 3,000mg MCT in a single 15ml serving." For more information, please visit www.O3SMOOTHIES.com.
In March, Virun received Notice of Allowance for U.S. Patent No. 14,866,717, Pre-Spray Emulsions and Powders Containing Non-Polar Compounds. This patent application covers Viruns' technology used to convert oil to powder and to stabilize oxidative oils such as omega oils, MCT oil, CBD, astaxanthin, CoQ10, and others. For more information on Viruns' spray-dry technology, please contact innovate.today@virun.com.
About Algarithm(TM) Ingredients: Algarithm(TM) is the Smart Source for Plant-Based Omega3s, providing high quality, algal, value-added Omega 3 ingredients for a wide range of food, beverage, and dietary supplement (including infant) applications. With our plant-based, toxin-free and sustainable ingredients, we are revolutionizing functional ingredient sourcing in the food, beverage and dietary supplement industry. Algarithm(TM)s' AlphaMega3 algal Omega 3 (DHA) oil stands apart from other plant-based DHA sources due to its flavor and odor characteristics (or lack thereof) and superior stability.
About Virun NutraBIOscences(R): Founded in 2003, Virun was formed to create nutritious, great tasting and novel formulations for the food, beverage, supplement and pharmaceutical industries. Located in Pomona, California, Virun is a fully integrated research, production, and manufacturing facility, which quickly conceptualizes ideas to create innovative custom bulk blends and finished products for contract manufacturing. Virun is the only biotechnology company that owns over 80 patents worldwide and develops technology around biochemistry practices. Its' technologies include Esolv(TM) a clean-label claim emulsifier, OmegaH2O(TM), which incorporates Omega 3 EPA DHA into clear, shelf-stable, clean label claim beverages without a fishy taste; Probiferrin(TM), a technology that increases the bio-availability and shelf-life of probiotics in powders and beverages; and other innovative solutions and brands, including O3Omega(TM) Smoothies, Viruns' own line of algal omega DHA MCT smoothies. Manufactures and retailers interested in learning more can contact Virun at www.virun.com.
Contact
Virun, Inc.
Nina Parker
(909) 839-0629
www.virun.com
innovate.today@virun.com

Contact