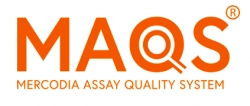 Uppsala, Sweden, May 17, 2018 --(
PR.com
)-- The immunoassay company Mercodia today announces the launch of MAQS – the Mercodia Assay Quality System. With this program, Mercodia is the first company in the field of immunoassays to set a standard for quality, ensuring customer satisfaction in all parts of its offers.
Today, many immunoassay companies talk about "quality," but until now the term has not been properly defined. Is it just assay specifics such as high specificity, lowest possible sample volume and broad measurement ranges, or should it be more? Fast shipping? Well-trained staff? Quick and reliable tech support? To address this, Mercodia has set out to describe Quality by Mercodia in a transparent way, to be scrutinized by customers and collaborators. MAQS is a 69-point program developed at Mercodia with the aim of exploring and explaining the high quality the company is offering.
MAQS is a complete and transparent program that covers every aspect of Mercodia's products. This program has been developed to inform and educate customers and collaborators about what quality is to Mercodia and describes all the quality parts at the company, from research and development through production, packaging and shipping to customer support and post-market surveillance of a Mercodia product. From now on, all Mercodia ELISAs are MAQS certified.
"Mercodia has always produced products with the highest possible quality, and with the MAQS program we can communicate this, so that our customers and collaborators can be 100% confident in the data received from Mercodia products and services," says Mona Österberg, CEO at Mercodia. "When using a MAQS certified product customers can be sure to get the best assays possible, ensuring that they can present and publish reliable results."
All 69 points of MAQS can be explored at
www.mercodia.com/maqs