Badger Applauds Hawaii's Ban of Reef Harming Sunscreens
Maker of people and planet-friendly mineral sunscreens and other organic personal care products joins eleven safe sunscreen brands in supporting the ban and raising public awareness.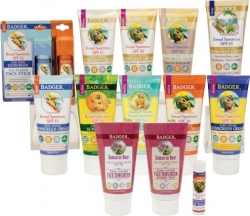 Gilsum, NH, May 25, 2018 --(
PR.com
)-- W.S. Badger Co., the maker of people and planet-friendly mineral sunscreens and personal care products, applauds Hawaii on being the first in the U.S. and the world to pass legislation banning sunscreens containing chemicals that harm coral reefs. Once signed by Governor David Y. Ige, Senate Bill 2571, which will take effect January 1, 2021, prohibits the sale or distribution of any sunscreens containing oxybenzone, octinoxate, or both on the islands.
Badger launched its first broad spectrum sunscreen in 2005 and ever since has been on a mission to raise public awareness that the active mineral ingredient non-nano zinc oxide is one of the safest options for people, coral reefs, and marine ecosystems. As a member of the
Safe Sunscreen Council
, the company is proud to be working with a coalition of eleven other safe sunscreen brands in supporting this bill and the use of natural, reef-friendly sunscreens.
According to the Environmental Working Group (EWG), oxybenzone is found in 65% of available chemical sunscreens. EWG also points out that product with active mineral ingredients, such as zinc oxide, provide better broad-spectrum protection against UVA as well as UVB rays. Badger sunscreens have obtained top safety and efficacy ratings from the EWG and protect with non-nano zinc oxide - the safest single active ingredient available. The company recently launched two new clear zinc oxide sunscreens, unscented SPF 30 and SPF 35.
"To produce the most reef friendly sunscreens, Badger follows ingredient recommendations set forth by the Haeriticus Environmental Laboratory. We believe in creating sunscreens that are good for your skin and the environment," says Rebecca Hamilton, family owner and VP of Research & Product Development at
Badger
. "Badger has always considered the environmental impact of our products, and long before people were searching for it, we were making naturally reef-safe sunscreens."
A recent article published by Slate.com refers to a
2015 study
that states "oxybenzone and octinoxate were found to contribute to coral bleaching (the scourge that has more or less destroyed the
Great Barrier Reef
), slow new coral growth, and disrupt marine life. The study found the chemicals in especially high concentrations in popular tourist waters, especially in Hawaii and the U.S. Virgin Islands. In response, some resorts and tour companies have chosen to
ban or educate against
nonbiodegradable sunscreens, while the
National Park Service
recommends being "reef friendly" by choosing sunscreens made with natural mineral ingredients such as titanium oxide or zinc oxide."
About Badger
Badger is a family run and family-friendly company that has been making healthy products for people and the planet since 1995. Badger was born when Badger Bill, a carpenter at the time, created a recipe of natural ingredients strong enough to soothe his rough, dry, cracked hands. Now a team of over 100 employees, the company produces sunscreens and nearly 100 hundred personal care products at its headquarters in Gilsum, N.H. Inherent in Badger's DNA is its status as a
B Corp
, a certification earned through B Lab, a third party non-profit that requires companies to meet rigorous standards of transparency as well as environmental and social performance. Badger has been a certified B Corp since 2011 and in 2015 became one of New Hampshire's first businesses to register legally as a Benefit Corporation, a for-profit status that incorporates the pursuit of positive environmental and social impact in addition to profit. For more information, visit Badger at
badgerbalm.com
and follow on
Facebook
,
Twitter
, and
Instagram
.
About the Safe Sunscreen Council
The Safe Sunscreen Council is a coalition of companies with a shared mission to study this issue, raise awareness within the skin care industry and consumers and support the development and adoption of safer ingredients for people and planet. In addition to Badger, its members include All Good, Babo Botanicals, Kokua Sun Care, Mama Kuleana, Manda, Raw Elements, Raw Love, Sea & Summit, Stream2Sea, and Suntegrity.
Contact
W.S. Badger Company
Deirdre Fitzgerald
603-283-5220
www.badgerbalm.com

Contact