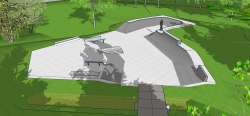 Pequannock, NJ, May 26, 2018 --(
PR.com
)-- Pequannock Skatepark Association, a non-profit 501C3, launched a fundraising campaign to raise $100,000 for a phase one of a concrete skatepark Designed by Pillar Design Studios.
On February 27th, Pillar Design Studios presented the design for a concrete skatepark in Pequannock, NJ. Pillar Design Studios and Engineering & Land Planning Associates are under contract with Pequannock Twp to design and engineer a custom poured skatepark in Pequannock Township. Although final costs are not yet determined until construction bid, Pillar Designs provided an estimate for construction at $382,000 for the 6,400 sq ft skatepark. Although the township has not decided to fund the skatepark entirely, on Tuesday May 22nd, the town council voted to give the Pequannock Skatepark Association a non-binding letter to help support fundraising that acknowledges and supports the use of $150,000 in funds aside in the 2017 Capital Budget for building a skatepark.
Pequannock Skatepark Association is moving forward to raise the funds and in doing so will be eyeing a first phase estimated at $250,000. This leaves the Non-profit with $100,000 left to raise for a phase one.
The Pequannock Skatepark Association is a 501C3 Non-profit which started as a means to raise funds for building a skatepark in Pequannock NJ. They have been endorsed by the Pequannock Policemen's Benevolent Association #172 as well as the anti-drug group Pequannock Township Coalition.
The Pequannock Skatepark Association believes skateparks are proven to increase health, well-being and community cohesion while reducing social exclusion and anti-social behavior. They believe the skatepark will not only benefit skatepark users, but it will enhance the town and will be an asset to the whole community. Their mission statement is as follows: "The Pequannock Skatepark Association seeks to promote a healthy and active lifestyle, increase social integration, improve social cohesion and increase volunteering. Our goal is to educate and engage the township on the health and community benefits of skateboarding across all age demographics, and to advocate and help maintain a quality concrete public skatepark that would allow for skateboarding, BMX bicycling, and scooters to safely recreate and beautify public space in creative and innovative ways."