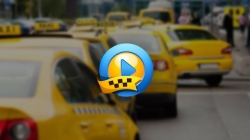 San Francisco, CA, May 30, 2018 --(
PR.com
)-- On October 18, 2017 the largest Ukrainian online transportation service Uklon, together with the local subsidiary of the French insurance company AXA, launched free life insurance for their passengers. Insurance automatically covers all users of the application or the web-based service interface in every city where Uklon is available. The insurance of passengers of the online taxi service is the first solution of this kind in Europe. Moreover, the introduction of the new service did not affect the tariffs, as all costs were incurred by the company.
"Uklon works in Ukraine's largest cities and knows firsthand what active traffic is. We aimed at making the transportation of our passengers in megacities as comfortable and safe as possible. And, it seems, we have succeeded. The introduction of insurance at the passenger level has worked: the number of clients of the company is growing," notes Uklon CMO, Daniil Vakhovskyi. "But for Uklon it's also very important to be the best partner for drivers. That's why, after 4 months of insurance coverage for passengers, we introduced free insurance for our drivers and partners," summed up Vakhovskyi.
Vitaly Dyatlenko, co-founder and CTO of the company, recalls: "In distant 2009, we created Uklon as a solution for the distribution of the gig-economy in Ukraine, against the backdrop of the 2008 economic crisis, inflation and rising unemployment. So, we enabled a lot of people to work as taxi drivers part-time. The driver was no longer required to buy or rent a walkie-talkie, put taximeters and officially work as a taxi driver, to start work, you needed a mobile phone with the Internet support. Of course, such a model of work requires a great deal of social responsibility both on our side and on the part of driver-partners. From our side, we implemented life insurance for passengers and drivers, and the statistics helped us to verify the responsibility of the drivers - in 6 months in Uklon there have been 19 accidents, it is with more than 10,000 registered vehicles. This statistics shows that the average level of accidents in a taxi is several times lower than the average statistics on Ukrainian vehicles, because drivers who carry out orders in their private cars and give a lift to clients on their way to work, for example, tend to be more responsible and attentive on the road than those drivers who spend all day in a company's car."
About Uklon
Uklon is the largest Ukrainian online car-calling service. Uklon is more than a taxi, after all, the service not only unites the passenger and the driver, but also provides courier services, transports loads and even animals around the city, provides drivers on their cars or for a client's car and provides other transportation services.
Contact
Dmitry Dubrovskyi
Co-founder and CEO of Uklon
dubrovskyi.dmitry@uklon.com.ua