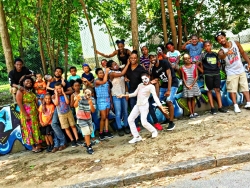 Atlanta, GA, June 13, 2018 --(
PR.com
)-- This June, residents of the West End Oakland City Apartments will get a new mural on the side of their apartment building. Their children will help paint it. Local artist and muralist, Artist InUs, who is also known as Muhammad Suber, was commissioned by Evolving Arts of America and Chisom Housing Group to paint a two story mural on the facade of the Howell Place SW site of the Oakland City West End Apartments, an affordable housing complex with sites in the Oakland City and West End sections of Atlanta. Additional program collaborators include Friends of Howell Park, Filthy Riché Clothing Co., and West End Neighborhood Development.
Last summer, Al Gill Chenault, M.S.Ed, JD, a West End resident who serves Evolving Arts' director of community engagement and government affairs in addition to leading the community improvement group, Friends of Howell Park, collaborated with Evolving Arts executive director, Ramel Westry to create "Art in the Park," a multi-dimensional program crafted to meet the unique needs of the West End neighborhood by introducing children to local artist-mentors, providing healthy food, and reclaiming Howell Park for safe outdoor activities.
Chenault, a self proclaimed "art heaux," saw that Mr. Westry had done a free art workshop for children in Douglasville, Georgia, and asked him if he could bring the free arts enrichment program to the West End section of Atlanta. Last year, over 30 children from Southwest Atlanta participated in the Art in the Park program in Howell Park. This year, the project has expanded. In addition to providing free outdoor art classes and healthy meals to area youth every Saturday in June, the duo will work with local artist and muralist, Muhammad Suber, to provide a free week-long summer camp for the disadvantaged youth who reside in the apartment complex across the street from the park. "Last summer, we our program was heavily attended by the kids from across the street -- which we expected, but we were amazed at the impact it had on their self esteem, sense of community pride, and the void it filled," Chenault said. "And we were humbled when the children asked if they could take the snacks home for their siblings."
This year, instead of just providing healthy snacks, camp participants will receive healthy meals, courtesy of Chisom Housing Group, Inc. People living in both Oakland City and the West End neighborhoods experience higher rates of crimes and poverty and lower rates of high school completion and access to healthy food compared to their peers living in other parts of Atlanta. "Chisom recognizes that to ensure the sustained wellbeing and success of our residents, we must understand the impact of their environment and play an active role in revitalizing their greater neighborhoods," explained Sarah Bagley, executive director of Chisom Housing Group.
The mural is anticipated to have a lasting positive impact on the children in the housing complex by improving the city scape, empowering youth to take ownership of their community through artwork and encouraging the youth to feel a vested interest in safeguarding their surrounding outdoor area.
Art in the Park
When: June 2nd, 9th, 16th, 23rd, & 30th, 2018, 11am-2pm
Who: Open to school aged children who reside in SW Atlanta.
Where: Howell Park, 983 Ralph David Abernathy, Blvd., Atlanta, GA 30310
Art in the Park Summer Camp & Howell Place Mural Art Project
When: Runs from June 25-30, 2018, 10am-3pm
Who: Local youth from the Oakland City West End Apartments, an affordable housing complex, to create a two-story mural
Where: Oakland City West End Apartments, 979 Howell Place SW, Atlanta, GA 30310
Mural Exhibition Reception
When: July, 14th 2018; 6:00 pm – 7:30 pm
Who: Free and open to the public.
Where: Oakland City West End Apartments, 979 Howell Place SW, Atlanta, GA 30310
About the Artist
Artist InUs a.k.a Muhammad Suber
Mr. Suber is an accomplished artist, originally from Yonkers, New York. He began sketching at about 4 years old. Predominantly self-taught, he started out using colored pencils, pens and markers to inject real-life figures into a fantasy setting, creating superheroes out of everyday people from his life into his work. Last summer, he collaborated with WonderRoot, an Atlanta-based nonprofit arts and service organization to create a mural -- a compilation of portraits that the kids painted of themselves and then enlarged -- for the Bellwood Boys and Girls Club. He also maintains a permanent mural and exhibit at Gill Gallery.
About Evolving Arts of America
Evolving Arts of America is a 501(c)(3) organization with outreach in Atlanta, New York, and New Orleans, that encourages youth ages 10-17 to develop their creative potentials through the arts. We provide an environment in which children can feel free to imagine, create, and welcome the arts into their lives.
About Chisom Housing Group
Chisom Housing Group is a Washington, D.C. based 501(c)(3) organization that owns the Oakland City West End Apartments (OCW), an affordable housing community located in three areas in Oakland City and the West End. Its mission is to provide safe, comfortable and affordable housing as well as social services to its residents, all of whom are living on low to very low incomes.
About Friends of Howell Park
Friends of Howell Park is a civic organization facilitated through Park Pride, Inc. It is comprised of a group of neighbors who are committed to the preservation, beautification, and enhancement of Howell Park in the Historic West End in Atlanta, Georgia.
About Howell Park
For over sixty years, Howell Park, located at 983-999 Ralph David Abernathy Boulevard, named in honor of former mayor and resident of West End - Evan P. Howell - was the only park in West End. Originally a part of his residential estate, the Park came into being after Mr. Howell's death when friend acquired the land and donated to the City in 1905. Currently, Howell Park and Playground are in operation at the corner of RDA Boulevard and Peeples Street and are a contributing site to the district. The original home, the "Woodlawn," was demolished, but the Oakland City West End Apartments sit where the home once stood. During the West End Urban Renewal projects, two new public parks came into being in the West End -- West End Park at Lawton and Oak Streets and the Rose Circle Park at Rose Circle and Lowery Blvd.