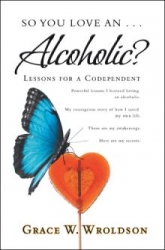 Los Angeles, CA, June 15, 2018 --(
PR.com
)--
"So, You Love an… Alcoholic?: Lessons for a Codependent,"
is a brand new book from author, Grace W. Wroldson.
A brave new author breaks her silence on the subject of alcoholism. Grace boldly shares her story of how she saved her own life from an alcoholic relationship. She, herself, suffered and survived 15 years in a relationship with an active alcoholic. Grace is a writer and mother who believes in the self-love solution and saving children from the codependent-alcoholic dilemma.
This book contains 25+ powerful lessons. Following the life-cycle of a butterfly, she includes her secrets for success from each stage of her journey - from boundaries, forgiveness, self-love - to learning to live again - with wings. This book stands out from others because it offers new hope and sustainable solutions.
Each lesson dives into essential coping strategies the author learned, and used herself, in her journey to transform her pain into wisdom. She writes exactly what it took for her to change in order to live happy, fulfilled, and free. Her lessons are incredibly valuable to anyone seeking self-solutions.
In her book, the author shares her 20 years of recovery knowledge and know-how. The book reveals Grace's entire journey of waking up from loving an alcoholic – to achieve psychological balance and self-love. Grace details her personal struggle to gain her necessary and profound insights.
The author explains how she was recovering from what she calls a very strong "codependent spell." She was deeply in love with a person who wouldn't/couldn't stop drinking. When he refused to get help, she sought help for herself in the recovery program of Al-Anon, a Twelve-Step group for friends and families of alcoholics.
According to a recent study, approximately 32 million Americans – nearly 1 in 7 adults – have struggled with alcohol use. Even more so, many more millions of Americans who don't drink are being affected by the alcoholic (or alcohol use) as well. With such a large portion of the population facing the same struggles that Grace did, her story and message are sure to resonate with the millions of readers who love, or are in love with, an alcoholic. America has a drinking problem, and it's getting more noticeable. Her story delivers help and hope for those being affected.
If you or someone you know is currently in love with a drinker, an alcoholic, or an addict, then "So, You Love an...Alcoholic?: Lessons for a Codependent," is an excellent choice of a book to read this summer.
In this book, you will learn how one courageous woman dug herself out of the hell of an alcoholic relationship, in order to create a better life for herself and her child. The author's first-hand experience in dealing with a toxic, codependent relationship will remind you that you are not alone, inspire you, and give you the tools you need to help yourself.
"So, You Love an… Alcoholic?: Lessons for a Codependent" is available on Amazon for $15.99 in paperback form. Kindle for $3.99. Published: May 2018, Pages: 212, Size: 5.5x8.5, ISBN: 9781982205010
"This could be one of the most important books you will ever read." - Dave R.
Grace W. Wroldson
www.soyouloveanalcoholic.com
grace.w.wroldson@gmail.com