The Decorating and Staging Academy Relaunches Free Online Decorating Magazine
A free online magazine for the decorating, staging and DIY enthusiast.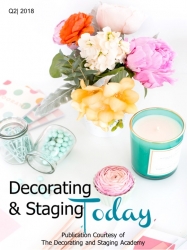 Park City, UT, June 22, 2018 --(
PR.com
)-- The publishing team recently announced the official relaunch of the Decorating and Staging Academy's magazine, formerly the Decopolitan, now Decorating & Staging Today - a quarterly online magazine for those with a passion for interior decorating and geared towards sharing information. Each month will showcase the latest in creative ideas, products, and inspiration geared to creating a beautiful home and/or a successful decorating or staging business. The relaunch has received rave reviews. Sandra Racz, Executive Director of The Decorating and Staging Academy, is thrilled to share the talent of others with the readers. Decorating & Staging Today was created to meet the needs of the professional decorator and the DIY market. The magazine will have a significant appeal to anyone that loves decorating. Personalizing the magazine for individual marketing is an option.
The Decorating & Staging Today writing team consists of Sandra Racz, JoAnne Lenart-Weary, Carol Bass and well-known industry leaders and Master Professional Trainers, who have helped many follow their dream and launch successful businesses. Contributing authors include a variety of guest authors who share their knowledge of the industry and relevant trends. Recent articles in the June 2018 issue included "5 Lies Homeowners Tell Themselves" by Carol Bass. Kellie Hatcher supplied a step-by-step guide on how to take "Better Staging Photos with Your Phone." Marianne Cherico delved into "The Big Buzz Word in Business" and how to become your boldest, best and most authentic self. You also have a delicious Kale Caesar Pasta Salad recipe to look forward to by Mountain Mama Cooks, Kelley Epstein.
Colleen Clark, Owner of Colleen Lora Designs said, "Yay! I am thrilled The-DSA is bringing back the quarterly magazine. I sent those to my clients in years past and think it was one of my best marketing tools."
About the Decorating and Staging Academy:
The Decorating and Staging Academy is a leading provider of professional education in the fields of interior decorating, real estate staging, color classes, interior redesign and more. With trainers in several different states, the DSA is a respected industry leader, committed to the art of creating beautiful homes and successful businesses.
the-dsa.com/magazine/
Contact
The Decorating and Staging Academy
Sandra Racz
888-393-9777
www.the-dsa.com

Contact