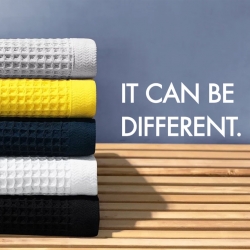 Los Angeles, CA, June 20, 2018 --(
PR.com
)-- The
K-25 Smart Bath Towels
have exceeded their campaign goal of $10,000 on Kickstarter within hours after launch. The recently launched crowdfunding campaign by SOLO-RM for this futuristic and technologically sophisticated bath towel went viral and within hours, it has now crossed its initial campaign goal by nearly $5000. K-25 Smart Bath Towels 2.0 are marshmallow cottony soft bath towels that soak water as a super sponge waffle, and they are a highly recommended choice for every occasion.
"In less than 10 hours from our launch, we were fully funded and our fundraising campaign was moving strong to sound, super worthy and successful," said the spokesperson of this campaign, while talking about its success. "This magic can only happen when an artist meets an entrepreneur and we are getting a phenomenal response from our backers from around the world," he added. The company is offering these towels as a reward with worldwide shipping and supporters from around the world are still contributing in the overwhelming success of this project.
Developed by a great team of professionals where each person performs as a part of an upscale mechanism, these smart towels are a true revolution in this industry. With many unique features and benefits, these towels will solve all the major problems caused by all kind of contemporary bath towels. Moreover, they soak water quickly and dry at an even quicker pace, making them a perfect choice for travel, the gym or even beach. Furthermore, the company is offering these towels in five new colors and four new sizes under this Kickstarter campaign.
In addition, this crowdfunding campaign on Kickstarter will expire in 29 days so the supporters from around the world have a full month to book their own towel by pledging in this project. Due to this overwhelming response, these remarkable smart towels are already creating a major buzz worldwide and they have been featured on many global media outlets such as the New York Journal, Fox 28, Chicago News, The Canada Headlines along with many major European and Asian news websites and tech blogs. Furthermore, due to their non-stick properties and anti-wetness features, many spa and salon professionals have also shown their interest in these smart towels.
Other useful features of these K-25 Smart Bath Towels include their highly absorbent properties, naturally antibacterial design, ultra-soft and fluffy material and lightweight build. The extra-large waffle weave of these smart towels is primarily responsible for these magical properties and the deep honeycomb shaped pockets make sure that these towels dry more quickly than any other regular bathing towel. They do not stink either and due to all of these practical and durable features, these scientifically and technologically superior towels are poised to become an industry leader in the towel manufacturing of the future.