BlitzPredict Launches Online Sports Information Platform Powered by Blockchain Technology
With Supreme Court Ruling Enabling U.S. Sports Gambling, Blockchain Ledgers Provide New Level of Transparency as Industry Expands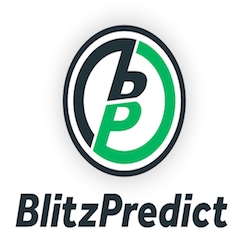 Las Vegas, NV, June 23, 2018 --(
PR.com
)--
BlitzPredict
, a blockchain-powered sports information aggregator with a focus on both traditional sports betting and esports betting markets, announced today that its main platform has launched.
The Las Vegas-based company, providing advanced tools and analytics models for sports bettors, is the first to record sports predictions to the blockchain, time-stamped against true market odds, to provide a permanent, verifiable record of an expert's success. Users can access BlitzPredict's paid features with XBP, a native ERC20 cryptocurrency on the Ethereum platform, available at premier exchanges like Cryptopia, Bancor, Idex and HitBTC.
With the recent Supreme Court decision allowing states the jurisdiction to legalize sports betting, the BlitzPredict platform is positioned to bring a new level of trust, transparency and credibility to the industry as it expands throughout the U.S. Blockchain technology allows BlitzPredict to verify the performance of the experts that it features, eliminating the risk of false claims, one of the biggest problems facing the online wagering industry.
Along with expert blogs, the BlitzPredict platform currently includes an MLB analytics model and a World Cup soccer model that are available for users to view odds and predictions. The MLB model is off to a 25-8 start for a 76% win percentage. Throughout the FIFA World Cup, currently underway, users can also access odds and find reliable, transparent betting advice available for purchase with the XBP token.
The potential annual volume of the U.S. sports wagering market is estimated as high as $400 billion and BlitzPredict is positioning itself to be a leader in the space by making betting more efficient. The company is actively exploring potential marketing partnerships and technical integration opportunities.
Sports betting is one of the best applications for blockchain technology because of its capacity to reduce disputes and increase trust. For many users, BlitzPredict will be the first experience they have had with cryptocurrency and blockchain technology. By using a sophisticated Fintech model, BlitzPredict is bringing powerful analytics and much-needed transparency to an industry that is poised for exponential growth.The decentralized blockchain ledger provides immutable documentation of all predictions and wagers, protecting against the abuse that occurs when experts or sportsbooks misrepresent their records.
"In addition to being at the forefront of a newly legalized industry, we're bringing truth to sports betting with blockchain technology," said BlitzPredict CEO Brett Richey. "Blockchain allows us to catalog the records of all the predictors we work with, and we will only feature those with the best rates of success. Our users have access to the BlitzPredict analytics models to determine the best lines on any given bet, which will improve outcomes even more. A half-point is often the difference between winning and losing."
BlitzPredict will soon expand its focus to the esports market, in addition to launching tournaments and implementing "smart contract" betting functionality. Smart contracts enable users to execute pre-set wagers when optimum criteria are met, similar to stock price triggers. BlitzPredict is already making use of smart contracts by recording all expert predictions on its platform to the blockchain. The platform will eventually aggregate betting options from over 100 sportsbooks and prediction markets in real time, much like a stock ticker, providing users with access to the best odds available at any given moment.
About BlitzPredict
BlitzPredict is a global platform that opens a new world of opportunity for sports bettors by making betting more efficient. Using smart contract tools and blockchain technology, users gain access to the best lines available in the market at the time of a bet. BlitzPredict offers access to advanced analytical models and a suite of customizable tools powered by smart contracts, including recording predictions to the blockchain, time-stamped against true market odds.
Media Contact: Brewer Owen, bowen@fwv-us.com, 919-602-7016
Contact
French West Vaughan
Brewer Owen
919-602-7016
fwv-us.com

Contact