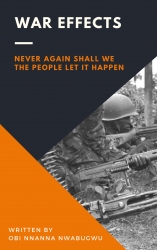 Lagos, Nigeria, July 02, 2018 --(
PR.com
)-- In "War Effects," Nigerian-American writer, Obi Nnanna Nwabugwu, tells the Biafran War story from an original perspective. The book tells the realities of the Nigerian situation about the Biafran War. With a subtitle "Never Again Shall We the People Let It Happen," it's clear that Nwabugwu believes that the Igbo people will never let such a horrific event happen again. Dedicated to the author's late sister and childhood friend, Chinyere Nneka Mbulo and late Okechukwu Onyegbadue, "War Effects" in twenty-three chapters tells the story surrounding the Biafran War, a war fought between Nigerians and the Igbo people who felt they could no longer co-exist with the Northern-dominated government of Nigeria. The Biafran War, which lasted over two years, led to the death of nearly two million Igbos. Available on Amazon, Barnes & Noble, Google Play Books, Kobo, Apple iBooks and 400 more online bookstores worldwide, "War Effects" is sold at US$3.99.
According to Dr Frank Nwabugwu, Nwabugwu's writing style is unique and it "evokes the past, present and future effects that a war can be on the youths." In a review by Dr Ozichi Alimole, the Former Nigerian High Commissioner to the Republic of Singapore, "Nwabugwu has introduced a new aesthetic to the African literary landscape. Uncompromising and unconventional, the style is bold and fearless, reflecting above all the frustration of an endangered generation of young people in the face of the failures of their forebears. 'War Effects' captures with frightening imagery the past, the present and, regrettably, the future Nigerian socio-political culture." When describing the book, Esther Nwogu said it's "A scintillating work of fiction with differences that elicit real emotions as regards to the past and present war effects in a way never seen before."
Obi Nnanna Nwabugwu is a Nigerian-American writer that lives in Tulsa, Oklahoma. Nwabugwu holds a bachelor's degree in Insurance from the Imo State University, Owerri, Nigeria. He has a Diploma in Information Technology from Knowledge Windows Asia Pacific Institute, Singapore. He had his nursing training at Concorde Career College Grand Prairie, Texas, and his Master's degree in Human Relations at the University of Oklahoma. Nwabugwu is presently working with Shadow Mountain Behavioral Health in Tulsa, having worked with the Nigeria High Commission in Singapore. Nwabugwu is not a career writer, but he writes fictional books for fun to highlight pressing issues in the society. "War Effects" is published by Publiseer, a Nigerian digital publisher.