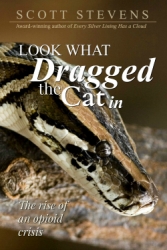 Burlington, WI, July 03, 2018 --(
PR.com
)-- The fifth book by Wisconsin author, Scott Stevens, calls out the beverage alcohol business and a "buzz" culture, not pharmaceutical companies and doctors, as the culprits behind the opioid crisis. Stevens says, "If you examine how many opioid-related deaths are alcohol-related, the answer is that they all are."
The book is to be released August 23 at the International Conference on Addiction Therapy & Clinical Reports in Paris, France. "Look What Dragged the Cat In: The rise of an opioid crisis" caps two-years of research by the author into the escalation of opioid overdoses. "It's the same root cause of every drug 'crisis' we've observed. Cocaine in the 1980s, heroin again in the 1970s and before that the 1920s, and between the two prior heroin crises, a methamphetamine crisis in the 1950s," says Stevens. "The thread cinching all of them together is alcohol: The drug we don't call a drug or treat as the deadly drug it is. We encourage use of this drug, then when users can't get where they want with alcohol, they up the ante with other, harder drugs. No runner runs a marathon as their first race out."
The book examines the self-regulation of alcohol-industry ads, the pricing of alcohol, and its availability. "There really is a straight-line relationship between the opioid crisis – and the next crisis we'll have – with the gateway drug, alcohol."
The World Congress on Addiction Science in London in September, as well as the International Conference on Clinical Psychology in Amsterdam, also will be forums for Stevens' work this fall.
Stevens has no ties to the pharmaceutical industry, nor does he practice medicine, yet he finds only moderate culpability for either profession in the rise of the opioid situation. "They were accomplices to some degree, but we fail to look deeper. What causes problems is one. We just have this fear of tagging the alcohol business because of our glorification of drinking." The book points out that society also has a notion that anything resembling reining in the alcohol business looks like Prohibition, generally considered a failure. Americans also don't want to believe alcohol is a drug or a problem outside of car wrecks, cirrhosis, and disease of alcoholism. "We're told we can drink responsibly when there is no responsible way to drink a toxin and known carcinogen. Buying into the glamour of the drug seduced Americans right into opioids."
Americans defend the gateway drug, says the author. Among his solutions is a strategy like the anti-smoking campaign that began with the Master Settlement Agreement for tobacco companies in the 1990s. "We defend drinking as some sort of rite. All we're doing by guarding drinking as a personal choice is sacrificing our own children and future generations for a product that has zero life-extending or life saving properties."
"Look What Dragged the Cat In" is being published by BookLocker; will be offered as a hardcover only until 2019, and will be available at all booksellers.
About the Author
The noted journalist on alcoholism is a founding influencer of the world's largest medical portal, HealthTap.com. He is the former Editor-in-Chief for treatment center site, AddictedMinds.com. His books on alcohol and alcoholism include 2010's What the Early Worm Gets, 2012's Every Silver Lining Has a Cloud, which earned finalist honors in the Indie Book Awards and USA Best Books Awards in 2013, and Adding Fire to the Fuel, a 2015 USA Best Books Awards Finalist and 2016 Book Excellence Award winner. For more information, please visit www.alcohologist.com.