Santa Cruz Poet Releases First Full-Length Book Collection
Kim Cope Tait, a 1989 graduate of Harbor High School and local teacher has moved home to Santa Cruz, California and will have her first full-length collection of poems released by Finishing Line Press on July 13th, 2018. Having lived and taught in Hawai'i, Switzerland, New Zealand, Vermont, and Colorado, Kim has made her way home on the eve of her book release.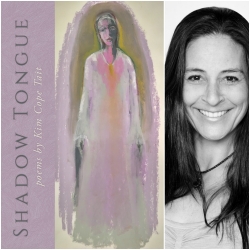 Santa Cruz, CA, July 10, 2018 --(
PR.com
)-- Kim Cope Tait, a local Santa Cruz writer and teacher, has returned home on the eve of the publication of her first full-length collection of poetry. A 2000 graduate of Vermont College of Fine Arts in Writing, Kim's work has appeared in literary journals and magazines in the U.S. and abroad. Her first chapbook of poetry, entitled "Element," was published in 2005 with Leaping Dog Press, and since then she has been paying her dues, submitting poems for individual publication and refining her full-length collection in preparation for its debut.
Kim and her family have lived all over the world, and she has taught, written, and published in all of their fabulous locations: Hawai'i, Switzerland, New Zealand, Vermont, and the High Rockies of Colorado. She has taught writing workshops for all ages of students, her youngest being 5th graders in Hawai'i, and her oldest being a 90-year old MENSA member in Missouri. This year she'll be teaching in Watsonville for Santa Cruz County Schools in the alternative education program.
Kim thanks Marina Martin, long-time English teacher at Harbor High School, with first opening the world of poetry writing to her in a way in which she could envision herself as a true participant. Later mentors have included such accomplished writers as Kevin Clark of Cal Poly State University in San Luis Obispo (where Kim earned her undergraduate degree in 1993); Pat Schneider of the Amherst Writers & Artists Program; Richard Jackson and Ralph Angel of the VCFA program; and Joan Logghe and Valerie Martinez of Santa Fe, New Mexico.
Kim's past choices of domiciles, she says, were not driven by her writing, but rather by her sons' snowboarding passion. Her older son Rakai competed at PyeongChang this past February in men's snowboard halfpipe. With both boys now spending time in New Zealand, Kim's love of the ocean, home, and family drew her and her husband back to Santa Cruz, where she will continue to teach and write both poetry and fiction.
Look for her book "Shadow Tongue" this month from Finishing Line Press, of which the following has been said:
"In this book, pain and tenderness are in a complex dynamic with the wildness of rich poetic language and the composed rigors of poetic form." ~David Ebenbach, author of "We Were the People Who Moved" and "Miss Portland"
"This is what it is to be lit from within. Astral and oceanic, familial and solitary, of measured breath and breadth, these poems attest that in grief, too, there is a deeper plumbing of the now and a radiance to savor, that our experiences of peace and pain are undoubtedly a function of each other's, a collective happening, and that the act of saying provides the basic physiospiritual infrastructure of knowing and being known, perhaps our greatest human needs." ~Bill Rasmovicz, author of "Gross Ardor" and "Idiopaths"
Contact
Kim Cope Tait
970-471-8400
kimcopetait.com

Contact