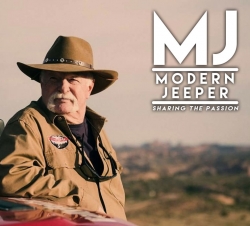 Rancho Cordova, CA, July 20, 2018 --(
PR.com
)-- ModernJeeper, a brand started barely 3 years ago to promote the Jeeping lifestyle, announced today the addition of Del Albright, legendary Land Use Advocate and member of the Off Road Hall of Fame, to help lead the growing ModernJeeper Group.
"We are extremely fortunate to have this opportunity to bring someone of Del's caliber on board," said Matson Breakey, co-founder of ModernJeeper. "Del Albright is truly legendary in the fights he has led to protect our inalienable rights to use public lands – from founding the Friends of the Rubicon, that literally saved the famous Rubicon Trail from closure, to his tireless work on behalf of the Blue Ribbon Coalition – Del is one of the greatest leaders in the world of off-roading."
"I am honored to bring my land use and business experience to the ModernJeeper Group where the team feels more like a family bolstered by professionalism and integrity," adds Del Albright. "I will jump in with both feet to continue 'sharing the passion' of the Jeeping lifestyle and the adventure it brings."
ModernJeeper Group was started in 2015 by Metalcloak, an aftermarket manufacturer of Jeep accessories and suspension systems. Originally just an online news source it has grown to be a group of brands that includes ModernJeeper.com, an online magazine, ModernJeeper Forum, a forum for Jeep enthusiasts no matter the model or style, and ModernJeeper Adventures, an adventure series with guided events across the country.
According to Matson, "Del will be helping to shape and guide the future of the ModernJeeper brand including assuming the role of Editor-In-Chief of the online magazine and guiding the development of the Forum."
In 2014 Del Albright was inducted into the Off Road Motorsports Hall of Fame (ORMHOF). According to their website, Del "shared 33 years of wisdom, knowledge of leadership, and supervision to help keep public lands open...working on trails...joining and starting organizations, and meeting with legislators to effectively save access to public lands."
Kurt Schneider, educator and ModernJeeper contributor, holds the honor of nominating Del for the ORMHOF said "Del Albright's biggest impact on the off-road community has been his educational programs that have inspired, trained and mentored leaders in the ongoing fight to keep public lands open to the public."
"ModernJeeper's programs are, first and foremost, about education and lifestyle," adds Matson. "There is no better person I can think of than Del Albright to bring that mission to the world."