Husband of Terminally Ill Wife Launches Barbecue Project in Her Honor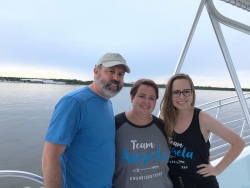 Randleman, NC, July 26, 2018 --(
PR.com
)-- Rob Ainbinder, a native of New England, recently launched a barbecue project on Kickstarter in honor of his Texas born & bred wife of 23 years. The couple relocated to North Carolina 18 years ago and could find none of Angela's Texas style barbecue. "At that time, harder lines were drawn between states and their barbecue styles. Angela longed for brisket and Texas hill country style sausage and I started on the path to learn how," said Rob.
Out of love for his wife and the different styles of barbecue, Rob undertook a study of barbecue which, to date, spans 16 years. He first studied by interacting in an early online barbecue newsgroup and worked his way through a collection of carefully selected books. Staring his barbecue efforts on a charcoal grill, within a year he upgraded to an Oklahoma Joe brand offset barbecue pit. Angela says with a smile that, "over this time he has mastered brisket and I enjoy eating it."
Last November Angela was diagnosed with Glioblastoma Multiforme, a fatal, Stage IV brain cancer. She recently discontinued treatment as the cancer had worsened and the outlook from available treatments offered little in the way of a better quality of life. Doctors say she has about six months to live.
As a creative refuge, Rob fused his love of Angela - and his study and practice of barbecue - in the form of Pitmaster's Log Book a log book where both professional and weekend pitmasters can document and perfect their efforts.
Support the project on Kickstarter here:
https://www.kickstarter.com/projects/1608039860/pitmasters-barbecue-log-book
Contact
Pitmaster's Barbeque Log Book
Rob Ainbinder
336-303-1834
www.barbecuelogbook.com

Contact