Austin Contractors & Engineers Association Elects New Board Members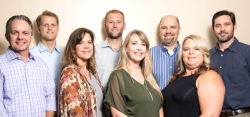 Austin, TX, August 02, 2018 --(
PR.com
)-- The Austin Contractors & Engineers Association recently elected new board members for the 2018-2019 fiscal year. The board elected the following to serve as officers of the board of directors: President Sarah Dunn-Cantu (Lone Star Paving), Vice-President Justin Lange, P.E. (Texas Engineering Solutions), and Secretary/Treasurer Scott Budd (Capital Excavation).
Others on the board include Aimee Busby, Austin White Lime; Collin Bland, Joe Bland Construction; Steven Buffum, P.E., Costello, Inc., Kim Carrillo, Jimmy Evans Company; Michael Ehrhardt, Liberty Civil Construction; Mike Fisher, P.E., Pape-Dawson Engineers; Larry Hans, Innovative Soil Solutions; T. Walter Hoysa, P.E., LJA Engineering & Surveying, Inc.; and Timothy Weston, P.E., MLA Labs, Inc.
ACEA is celebrating its 35th year of actively representing the construction and engineering communities in the Central Texas area. The association hosted an anniversary celebration to mark the occasion on June 14 which was noted with proclamations from the City of Austin, Travis County Commissioners, Williamson County Commissioners, and received a congratulatory note from Governor Abbott.
The association hosts a number of events throughout the year, including the top-rated Central Texas Infrastructure Design & Construction Symposium. In addition to supporting the contractor and engineering communities, they provide a generous scholarship to the next generation pursuing careers in these fields. The inaugural Equipment Rodeo held earlier in the year exposed high school students to the many facets of civil engineering and construction.
Monthly luncheons are open to anyone interested in staying informed about developments affecting the design and construction of area infrastructure. Luncheon program dates and topics can be found on the association's website and are often eligible for continuing education credits.
Membership is available to contractors, engineers, and suppliers providing goods and services to these industries. Complete membership information is available online at
www.aceatx.com
or by contacting the ACEA office.
About ACEA
The Austin Contractors & Engineers Association (ACEA) has been actively representing the construction and engineering communities in Central Texas since 1983. Association members are involved in designing and building the area's infrastructure.
Contact
Austin Contractors & Engineers Association
Silvia Pendleton
512-893-7067
www.aceatx.com

Contact