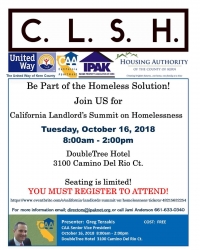 Bakersfield, CA, August 10, 2018 --(
PR.com
)-- United Way, The Income Property Association of Kern, and The Housing Authority of the County of Kern, in association with the California Apartment Association, are proud to present the first annual California Landlord's Summit on Homelessness. This free event will feature expert panels and speakers including CAA Senior Vice President Greg Terzakis.
This Summit will build on the 2018 Point In Time Count to find ways of breaking down barriers to housing California's homeless population. "We will be bringing together landlords, non-profits, and the public sector to address the biggest issue in the state," said United Way of Kern County CEO Mari Perez-Dowling. "We know from the evidence that the Housing First model works."
According to Housing Authority Executive Director Stephen Pelz, their Housing First programs have a 90% success rate in keeping tenants off the streets. "We can make a big difference here, but property owners are the linchpin," he added, "This is a supply crisis, and everybody needs to step up."
Landlords like Fred Payne agree, "Folks need to realize that serving the homeless population isn't a charity act or PR stunt; it is good business." The Summit will present programing to break down barriers between landowners and potential tenants. "There are just so many programs out there that landlords could be taking advantage of but they don't know about them," offered IPAK president Mardi Sharples, "We're going to change that in October."
Still, the biggest impediment seems to be stigma against homeless residents of the state. Advocates contend that landlords have inaccurate perceptions that prevent them from looking at homeless applicants. "Besides all the other obvious good, people don't realize that it saves lives." Pamela Lindsay, formerly homeless voucher recipient emphasized, "When you are on the streets, you are vulnerable. People die younger by living homeless. Think about saving a life."
The California Landlord's Summit on Homelessness will take place on Tuesday October 16, 2018 from 8:00 am to 2:00pm. It will take place at the DoubleTree Hotel, 3100 Camino Del Rio Ct, Bakersfield, CA 93308. You must have a ticket to enter. To Register follow this link:
https://www.eventbrite.com/e/california-landlords-summit-on-homelessness-tickets-48215632254
United Way of Kern County brings stakeholders together to generate philanthropy from all segments of our community, marshal resources, forge community consensus, build coalitions and partnerships. The combined result of all these is far greater than the sum of each individual component. United Way's focus is to improve the Early Childhood Literacy, Financial Stability and End Homelessness and Hunger in Kern County.
The Income Property Association of Kern is the local Chapter of the California Apartment Association (CAA) the nation's largest statewide trade association for people who own or manage rental property.
The Housing Authority is an independent, local government agency providing safe, affordable housing to nearly 20,000 low income Kern County residents. Additionally, the Housing Authority partners with other local agencies to help residents become self-sufficient and is an active developer of affordable housing, acquiring and building housing to help meet the affordable housing needs in Kern County.