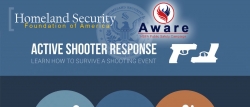 Des Moines, IA, August 14, 2018 --(
PR.com
)-- Today, the Homeland Security Foundation of America (HSFA) Office of Public Safety announced plans to host another active shooter town hall meeting at the Events Center West in Des Moines, Iowa on September 26, 2018 from 9:00 a.m. to 12 p.m.
"We cannot say it enough, preparedness saves lives," said Eric Brown, President, HSFA. "We hear people saying the threat of active shooters has been blown out of proportion, but the fact still remains mass shootings have claimed the lives of more students and employees across America than fire hazards. So, we encourage schools, businesses and churches to take active shooter preparedness just as seriously as they do fire safety and prevention. Our mission is preparing, not scaring. Together we can accomplish that mission."
The keynote address at the Events Center in West Des Moines will be delivered by Deputy Director Jon Davis of the Polk County Emergency Management Office. Davis has been with the Emergency Management Office since 2009 and has an extensive background in emergency services including emergency management, search and rescue, law enforcement, firefighting, emergency medical services and emergency communications. After the keynote address, audience members will be able to engage a panel of homeland security and law enforcement experts in a Q&A session.
HSFA officials say the organization is working to conduct active shooter awareness town hall meetings in all 435 congressional districts. With immediate plans to serve hundreds of districts over the next few years, HSFA has committed to continuing the Aware campaign, focusing on active shooter awareness and preparedness, for as long as the threat exists.
"HSFA is dedicated to raising awareness and helping people be more prepared," said Brown. "And, we're fortunate to not have to go at it alone. Innovative Rescue Solutions has partnered with HSFA to deliver another dynamic training session during the town hall in Des Moines. SafeTNose has joined the campaign as one of our principal sponsors. And, we've received overwhelming support from Safeguard Iowa. Working together I'm confident we can deliver a life-saving message of public safety to the citizens of Des Moines in a way that fosters an empowering sense of unity in hometown security."
The Aware public safety campaign is a series of events, training opportunities and outreach activities conducted by HSFA designed to increase the public's awareness of active shooter threats and preparedness strategies through community outreach and a series of town hall meetings. For more information about the Aware campaign, visit http://www.hsfamerica.org/aware.
To register free for Aware Des Moines, visit http://www.hsfa.us.
Founded in 2002, HSFA is an agency organized and certified as public, tax-exempt under IRC 501(c)(3) with 170(b)(1)(A)(vi) status. Its mission is to advance hometown security while protecting civil liberties. This mission is accomplished by the organization working with local, state and Federal agencies, organizations and communities to deliver life-saving public safety, energy security and health and human services programs to the public. HSFA is not a government agency. For more information about HSFA's work in the community, visit http://www.hsfamerica.org.