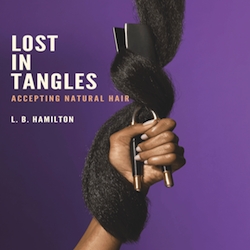 Ventura, CA, August 17, 2018 --(
PR.com
)-- As "Lost In Tangles," serves to help it's readers understand their own natural hair journey, it also fills a widening gap by bridging the two hair communities together. As the natural hair community tends to lean towards the exclusion of the processed-hair community, this book realizes that a person can choose to flat-iron their hair and still "be true" to themselves. "Lost In Tangles" completes itself in helping people discover themselves aside from the dark blanket of societal pressures and social norms.
The book, "Lost In Tangles," was written by L.B. Hamilton, a natural hair enthusiast for ten years. Hamilton began her natural hair journey in her early twenties with dreads, until years later she removed them to discover her natural hair, which she hadn't seen since she was five due to harsh chemicals and damaging hair practices.
"A lot of females can relate... and your book can change the lives of many because it is a true inspiration for natural hair." - Teacher
"Lost In Tangles" will be available in ebook and print, internationally.