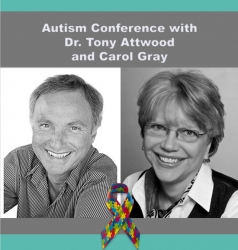 Dallas, TX, August 22, 2018 --(
PR.com
)-- Join Future Horizons for an unique opportunity with Dr. Tony Attwood, a clinical psychologist, and Carol Gray, an author and consultant for people on the spectrum. In a back and forth presentation, Tony and Carol will be merging their many resources, materials, and experiences to share their best insights and practical strategies. Tony and Carol will focus on understanding cognitive differences to support learning, communication, and social development through the lifespan.
Dr. Tony Attwood, a clinical psychologist from Brisbane, has over 30 years of experience with individuals with autism, Asperger's syndrome, and Pervasive Development Disorder (PDD). In addition to the workshops he provides all around the world, Dr. Attwood is a prolific author of scientific papers and books. His works on Asperger's syndrome and high-functioning autism are recognized as the best offerings in the field.
Carol Gray is a consultant to children, adolescents, and adults with autism, providing support via workshops and presentations. Through information, referrals, and resources, Ms. Gray offers direct services for individuals with autism, their families, and professionals who work on their behalf. Carol is author of the world famous Social Stories™, a well-respected evidence-based practice used worldwide with people with autism of all ages.
Great Wolf Lodge Grapevine
White Pine Ballroom
100 Great Wolf Drive
Grapevine, TX 76051