Film Festival Intrigued Filmmaker's Combination of UAV Filmography, Wild Horses & Wildfire
Using UAV technology, filmmaker William E. Simpson II captures cinematic glimpses of the secret lives of threatened native-species American wild horses in a balanced fire-resilient ecosystem.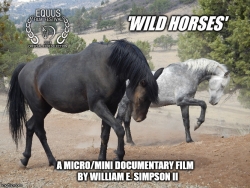 Redding, CA, August 23, 2018 --(
PR.com
)-- Author, Naturalist and Rancher William E. Simpson II brought some vocational skills as a commercial pilot and wilderness conservationist to the table for the production of "Wild Horses - A Micro/Mini Documentary."
"Even with a deep understanding of the behavior ecology of native-species American wild horses stemming from years of living among them, capturing them cinema-graphically is never easy. They are highly intelligent with a brain that is only 30% smaller than a human brain. Yet it is connected to some of the most sensitive sensory organs of any land animal (humans included), including smell, sight and hearing that are far superior to that of any dog. The challenge has always been stealth in observation and filming wildlife. To accomplish this mission, I configured a new high-tech drone that has a tiny visual signature with low noise propellers. Over the span of several weeks filming, I was able to collect enough 'B-Roll' for our editor (Steve Hayes at Quiet Productions)," said William E. Simpson II.
Native species American wild horses and burros are vanishing fast under the mismanagement by the Bureau of Land Management (BLM) in what many experts, such as Dr. Ross MacPhee have termed as a "management to extinction" by the BLM (docs.google.com/document/d/1-zNiS1uqCWZ9PimwJpaVdY7NC57hxdGKDCLXbCEYb8c/edit?pli=1).
Today, there are less than 68,000 free-roaming wild horses, yet Department of Interior Secretary, Ryan Zinke has announced his plan to reduce that population down to a scant 27,000 wild horses, arguably condemning them to the status of a threatened American species. This also means that along with about 40,000 free-roaming wild horses, a majority of the approximate 50,000 corralled wild horses will likely end up suffering the cruelties of Mexican and Canadian meat processors.
"Naturally, I am hoping to expose the plight of American native-species wild horses and bring it to the attention of the American public. The arguably threatened native-species American wild horses that are being wiped-out via mismanagement are after all owned by the public. So I was extremely pleased when I leaned that our film 'Wild Horses - A Micro/Mini Documentary' had been 'Officially Selected' by the EQUUS Film Festival, with the next major screening at The FEI World Equestrian Games™. We never expected such an honor! We were just trying to get the word out about the plight of America's vanishing native-species wild horses and how wild horses can help mitigate wildfire and toxic smoke!" said Simpson, the film's producer and aerial cinematographer.
The FEI World Equestrian Games™, held every four years in the middle of the Olympic cycle, is one of the biggest events on the global sporting calendar, combining eight equestrian World Championship caliber events in a predetermined location. More info here: https://tryon2018.com/
Founder and Director/Organizer of the EQUUS Film Festival, Lisa Diersen commented;
"The EQUUS Film Festival has screened more than 25 wild horse films and documentaries over the past six years, all have been really good with the same message about saving the wild horses. This short film and powerful message is different from the others because Bill Simpson has found a common sense and cost effective solution to the wild horse 'issue.' This is such a simple way to make things better for both the horses and humans. Saving both lives and our natural resources at the same time, wow what a great concept! It's about time that we stop fighting and start working together to launch this program with the BLM and the forest services. Let's get the Wild Horse Fire Brigade out of the corrals and back into their natural habitat!"
The Filmmaker has launched a new VIMEO channel, where "Wild Horses - A Micro/Mini Documentary" can be seen for free.
"Wild Horses" now showing here:
https://vimeo.com/285882192
More about EQUUS Film Festival here: http://www.equusfilmfestival.net/about-us.html
More about Wild Horse Fire Brigade here: https://www.wildhorsefirebrigade.com
Contact
Wildhorse Ranch Productions
William E. Simpson II
858-212-5762
www.WildHorseFireBrigade.com

Contact