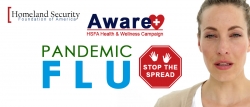 Atlanta, GA, August 23, 2018 --(
PR.com
)-- Today, the Homeland Security Foundation of America (HSFA) Office of Health and Human Services (HHS) announced plans to host a health and wellness town hall meeting at the Sheraton-Suites Galleria in Atlanta on September 18, 2018 from 9:00 a.m. to 11 a.m.
"Part of our mission is to bridge the gap between the government and the public," said Eric Brown, President, HSFA. "We're pleased to be able to bring a CDC expert together with health professionals and members of the public to disseminate life-saving information to groups that may be at risk during flu season."
The keynote address at the Sheraton Galleria in Atlanta will be delivered by Dr. Lisa M. Koonin, Deputy Director of the Influenza Coordination Unit (ICU) in the National Center for Immunization and Respiratory Diseases (NCIRD) at the U.S. Centers for Disease Control and Prevention (CDC). Dr. Koonin has been with the CDC since 1987, serving in various key roles, including Lead, Pandemic Medical Care and Countermeasures and (Acting) Director of the Influenza Coordination Unit, prior to her current position. After the keynote address, audience members will be able to engage a panel of community representatives and healthcare professionals in a Q&A session.
With September being National Preparedness Month, the organization is focusing on issues the public will be facing in upcoming months, including influenza (flu). "Increasing community awareness about potential influenza epidemic, and enhancing preparedness are important to strengthen the nation's health security," said Dr. Shoukat Qari, Chairman, HSFA HHS Committee.
HSFA officials say the organization is working to conduct health and wellness events in all 435 congressional districts. With immediate plans to serve hundreds of districts over the next few years, HSFA has committed to continuing the Aware Health campaign, focusing on wellness and preventive strategies to promote good health.
To register free for the town hall meeting, visit
http://www.hsfa.us
.
The Aware Health and Wellness campaign is a series of events, training opportunities and outreach activities conducted by HSFA designed to increase the public's awareness of health and wellness strategies through community outreach and a series of town hall meetings. For more information about the Aware campaign, visit http://www.hsfamerica.org/awarehealth.
Founded in 2002, HSFA is an agency organized and certified as public, tax-exempt under IRC 501(c)(3) with 170(b)(1)(A)(vi) status. Its mission is to advance hometown security while protecting civil liberties. This mission is accomplished by the organization working with local, state and Federal agencies, organizations and communities to deliver life-saving public safety, energy security and health and human services programs to the public. HSFA is not a government agency. For more information about HSFA's work in the community, visit http://www.hsfamerica.org.