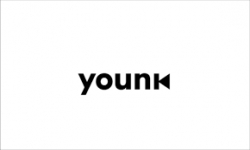 Boston, MA, September 06, 2018 --(
PR.com
)-- YOUNK, the world's first community music label using blockchain will partner with Boston CollegeFest for this year's "biggest back to school party" on September 22. The lineup will include select artists from YOUNK's Top 30 chart, including a surprise guest who has never failed to fill a stadium for over a decade. Boston CollegeFest 2018 will take place from 11am – 5pm at world famous Fenway Park, home of the Boston Red Sox as well as a world-class performance venue for superstar artists.
Just a week after the official launch on September 15, YOUNK joins Boston CollegeFest as entertainment sponsor. "This will be a fun event, not only for college students from Boston but for YOUNK as well. As the first community music label the ability to participate and connect with young music lovers, especially in Boston, is truly exciting. So much music comes from the streets but in this case, it will come from Fenway Park," said Don Grierson, the legendary music executive and YOUNK Chief Creative Officer.
In addition to providing festival entertainment, YOUNK is seeking musical talent from Boston area colleges and universities and inviting artists to use the platform to start making and supporting hits.
Mariia Yelizarova, YOUNK's VP of Strategic Initiatives will head the Boston event commented, "I'm excited to be launching YOUNK in Boston and connecting with the incredible talent in this city. I'm looking forward to meeting our first Boston community members at CollegeFest."
As a city born of independence, with music at its core, and home to legendary tech startups like Facebook, Boston has always been on the forefront of diversity and innovation. Boston's historic and storied music scene is legendary, so it is only natural that Boston has been selected to become one of YOUNK's Global Hubs.
Wanna be YOUNK? Head over to YOUNK.com or stop by the booth at Boston CollegeFest to check them out.
YOUNK is a community funded music platform that utilizes the latest Blockchain technology allowing for the transparent and decentralized distribution of royalty shares. In simple terms: the talent uploads a track, the community listens and rates the track, then the community supports their favorite track with YNK tokens, the ones that reach the soft cap get picked up by music experts for professional production and distribution. The platform then disseminates revenue using smart contracts. All in all, YOUNK plans to expand and modernize the record music industry. The core belief of giving the power of voice to the community using the latest available technology is central to YOUNK. Blockchain technology makes the platform transparent and efficient and gives everyone a chance to select future Hits. This has never been possible before, so get ready – the new generation of #hithunters is coming.
For details please contact Mariia Yelizarova at boston@younk.com.