Bald Head Blues Raising Funds to Help in the Relief of Hurricane Florence
Bald Head Blues is selling "BHI in my mind" t-shirts to raise money for the clean-up efforts caused by Hurricane Florence. 100% of the profits made will be donated towards the recovery.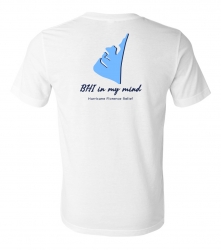 Bald Head Island, NC, September 26, 2018 --(
PR.com
)-- Bald Head Blues, a golf and island inspired apparel company distinguished by its golf cart with surfboard logo, announced today that the company is selling "BHI in my mind" t-shirts to raise money for the clean-up efforts of Bald Head Island (BHI) which unfortunately remains uninhabitable due to the winds and rain of Hurricane Florence.
Hurricane Florence hit BHI with 100+ mph winds and over 35" of rain. Early visits back to the island have reported extensive wind and flood damage, with as much as 4-5 ft. of standing water in places. Brunswick County remains in a State of Emergency. Re-entry won't be possible until the water is cleared out but recovery crews are working diligently to make this happen.
There is an urgent need for pumps and other supplies, so Bald Head Blues is donating 100% of the profits made on a special t-shirt "BHI in my mind" to the cleanup efforts on BHI. These are available at www.baldheadblues.com and offered in five sizes: Small, Medium, Large, X-Large, and XX-Large. Each cost $36.00 with free shipping. Please note these are pre-sales and orders are expected to be delivered by October 10th.
"We are proud to aid in the recovery of Bald Head Island and its infrastructure. As of today, we've generated over $35,000 and hope to raise a great deal more. Please invite you friends and family to help us restore the community of BHI," commented Bald Head Blues Founder & CEO, Claude Pope.
About Bald Head Blues:
For over 25 years, the Pope family has enjoyed the wonder and majesty of Bald Head Island with its acres of beaches, untouched marshes, maritime forests, pristine harbor and casual coastal lifestyle. It's a special place where nature's abundance and casual lifestyle inspired the formation of Bald Head Blues. An apparel company that embraces the island's extraordinary experience.
Unique to the island is its mode of transportation. Locals and tourists alike use electric golf carts to get around and more than often they are hauling beach chairs, umbrellas, boogie boards and surf boards. This island lifestyle where a quick ride to the beach becomes an adventure is represented by the Bald Head Blues logo.
All pieces in the Bald Head Blues Collections are fun, casual, colorful and classic. They employ high performance fabrics, refined designs and an inimitable attention to details. The new 2019 Spring Collection which include Aruba, Coral, Lavender, Regatta and Spring magnify the island's vibrant colors. Each series is bold, fresh, and energetic.
Bald Head Blues is known for their coastal and island style but their collections also incorporate technology like "Comfort Flex" which combines pima cotton with the performance and stretch of spandex. For rounds played in the heat, Bald Head Blues has utilized "Comfort Dry." This polyester/spandex blend is moisture wicking, lightweight and has a 4-way stretch for ultimate performance. The new Albatross Polo is also treated with a UPF 50+ for UV protection.
These high performance technologies and fabrics are worn by Bald Head Blues brand ambassadors and PGA TOUR Professionals Joel Dahmen and Martin Piller. They both face extreme weather changes on the tour and their Bald Head Blues polos keep them comfortable and ready to compete.
Bald Head Blues transports you to a place you want to be – even if you aren't there. Maybe it's to the golf course, the tennis courts or on the beach. For the Pope Family, its Bald Head Island. Where do you want to go?
For more information, please visit https://www.baldheadblues.com.
Keep up-to-date with all of Bald Head blues news on social media:
Instagram:
https://www.instagram.com/baldheadblues/
Facebook:
https://www.facebook.com/baldheadblues
Twitter:
https://twitter.com/BaldHeadBlues
Contact
Read the Greens, Golf PR
Vanessa Price
714-544-6515
www.readthegreensgolfmedia.com

Contact