Entrepreneur's Book About Revitalizing Fragrance Industry Earns Award of Literary Excellence
"Spritzing for Success" by Annette Green has earned the Dog Ear Publishing Award of Literary Excellence. The fascinating book details her experiences with spearheading the rescue of a beleaguered industry and turning it into one worth more than $4 billion today.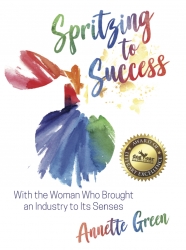 New York, NY, October 01, 2018 --(
PR.com
)-- The story of an underdog rarely fails to capture readers' hearts, and that's the case for the most recent winner of the Dog Ear Publishing Award of Literary Excellence.
"Spritzing to Success with the Woman Who Brought an Industry to Its Senses" by Annette Green tells the backstory of how the author strategized a rescue of the bankrupt Fragrance Foundation created in 1949 to be the educational voice of the then-small ($500,000) industry in the United States. In the process (which she did pro bono) she set the industry on the path to extraordinary growth. Today, fragrance is an industry worth more than $4 billion.
"Equally important," Green says, "the book reveals the impact of creativity and dedication available to all who are up to making the commitment to a journey overflowing with opportunities and success."
One idea that helped Green revitalize the fragrance industry was the concept in the early 1960s of a "fragrance wardrobe," and it's something she still uses for herself. The idea "turned out to be pivotal to the turn-around of the industry. It is based on experiencing a variety of scents depending on mood, occasion, temperature and fashion. I find different fragrances to be relaxing, exhilarating, erotic, sophisticated. Each offers me daily pleasures I can't imagine living without."
Green described herself as "thrilled, surprised and most appreciative" of earning the award, adding that her friends and family "echoed [her] reaction."
Award of Literary Excellence winners are determined by the company's editorial team. The managing editor, editorial services manager and the publisher review its recommendations, and only a few books each year achieve the honor.
She believes her book received the award because of her "ability as a storyteller to reveal how one can prevail, against the odds, to reach the heights of self-fulfillment through pure grit and determination. It lays out a path for anyone willing to turn their passion into a purposeful pursuit of a goal," Green said.
The publishing company's editorial staff appears to agree.
"From the very first paragraph, I was hooked," said Dog Ear editor Angela Wade. "[The] writing is poignant, erudite, and honest, [including] both … enormous highs and disappointing lows."
Wade called the work "an absolutely wonderful book that will appeal to all manner of readers, whether they are interested in the world of fragrance or are simply looking to learn a bit more about the wonders of the senses."
Green hopes that the book's readers "will be inspired to open their hearts and minds to the possibilities for career fulfillment in their chosen field by employing all the senses and passionately honed willpower in pursuit of their goals."
And Green isn't done with helping improve the world around her. Net proceeds from the sale of the book will support scholarships for students in the bachelor's degree program in fragrance and beauty marketing at the Fashion Institute of Technology in New York and the Annette Green Perfume Museum at the Fashion Institute of Design and Merchandising in Los Angeles.
The author said she is "extremely proud that the editors interpreted my vision of the book into such beautiful graphics and visual appeal." She called the Dog Ear team "incredibly effective" and "found their system of developing a manuscript into a beautifully conceived finished book is tremendously effective and inspirational. In addition, their after-publication programming opportunities and followup are remarkable."
The book, published Sept. 1, has had a strong promotional start. Green said on Nov. 6 "Spritzing to Success" will be the focus of a major panel and book-signing event to be held at the Fashion Institute of Technology in New York. It will be held in conjunction with the Fragrance Foundation. She and her team are planning similar events keyed to book signings.
Green, who has been writing since childhood, said the "ability to translate feelings into words has always captured my imagination. In high school I was editor of the yearbook. My first job was as editorial assistant on American Druggist Magazine, a Hearst publication. Writing was always at the center of all the jobs that followed."
In 1998, Green and Linda Dyett wrote a well-received book, "Secrets of Aromatic Jewelry," published in Paris, and over the years she wrote many articles, scripts and speeches for herself and others.
For additional information, please visit www.spritzingtosuccess.com.
Spritzing to Success
Annette Green
Dog Ear Publishing
ISBN: 978-1-4575-6336-2 232 pages $29.99 US
Available at Ingram, Amazon.com, Barnes & Noble and fine bookstores everywhere.
Dog Ear Publishing partners with authors to shape content that resonates with readers as diverse as the books we publish. Our mission is to leverage expertise, technology and relationships to form a meaningful and lasting bond between creators, content and culture as a whole. Dog Ear Publishing is headquartered in Indianapolis, Indiana, and can be contacted by phone at (317) 228-3656 or through www.dogearpublishing.net.
Contact
Dog Ear Publishing
Ray Robinson
317-228-3656
www.DogEarPublishing.net

Contact