Custom Truck One Source to Display Oil and Gas Equipment at Permian Basin Show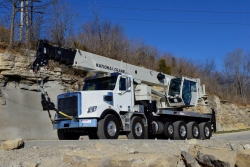 Odessa, TX, October 08, 2018 --(
PR.com
)-- Custom Truck One Source (Custom Truck) will display several pieces of equipment at the Permian Basin International Oil Show in Odessa, Texas, on Oct. 16 through 18, 2018. The equipment displayed in booth OS308 will include cranes, vacuum excavators, and track equipment, and will highlight the wide-variety of equipment Custom Truck offers the Oil and Gas industry.
"The Permian Basin Oil Show is held right in the middle of one of the most active oil and gas regions in the United States. We send a lot of our equipment to this area and we are excited to showcase it to the large number of people that attend each year," said Matt Beller, regional vice president, south region for Custom Truck One Source.
One of the many units displayed will be a National NBT60-128. Featuring 60-tons of maximum capacity with 128' (5 sections) of full power boom, this unit is versatile and powerful for oilfield operations.
One of the newest additions to the Custom Truck's VAC Portfolio, a CUSCO Turbovac unit, will be displayed at the show. This unit is designed to pick up and transport sludges, slurries, mud, gravel, and other environmentally sensitive waste. Boasting cyclonic filtration technology, airflow ratings of 1,800 CFM to 5,500 CFM, and powered with 28″ Hg of vacuum, this unit can go to work in any oilfield environment.
Emphasizing safety and functionality, Custom Truck will display their unique 4-man Personnel Carrier with Flat Bed combo. This ROPS certified and tested unit offers four-passenger stadium seating with seat belts. Additionally, this unit provides three-point entry/exit, and a flat bed with flexibility for multiple oil field applications.
Other units shown will include a Terex Hi-Ranger LTM40 bucket truck and GEHL DL 12-40 Telehandler.
About Custom Truck One Source
Custom Truck One Source is the first true single-source provider of specialized truck and heavy equipment solutions. With sales, rentals, aftermarket parts and service, equipment customization, remanufacturing, financing solutions, and asset disposal, our team of experts, vast equipment breadth and integrated network of locations across North America offer superior service and unmatched efficiency for our customers. Dig in at www.customtruck.com and keep up with us on Facebook and Twitter.
Contact
Custom Truck One Source
Heather Bristow
816-241-4888
www.customtruck.com

Contact