SprinkleCoin is Now Available at Several Cryptocurrency Exchanges Including LA-Token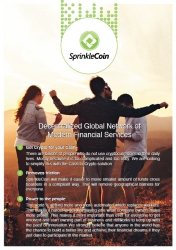 Sydney, Australia, October 06, 2018 --(
PR.com
)-- SprinkleCoin, SCOI is pleased to announce to its users that it is now available in major traders and exchanges such as LA Token. LA-Token is a very prominent and well-known crypto-exchange with daily trades occurring which have a collective sum of $35 million. LA-Token will be providing conversions between SprinkleCoin and Bitcoin, as well as SprinkleCoin and Ethereum.
With this recent change, SprinkleCoin will be available to LAToken's over 70,000 users. Being in the middle of a very large private ICO, SprinkleCoin is already preparing to become available on a multitude of different reliable exchange services. The private ICO managed to gain a lot of success and is being deemed as the best ICO of the year by many. However, until that becomes a reality, LA Token will still be available for anyone to utilize for their SprinkleCoin exchanges.
They also recently announced that SprinkleCoin would soon be available as a trading pair on partner SprinkleXchange's platform. Being a national stock exchange and a blockchain stocks exchange, SprinkleXchange will be the first exchange for digital assets to offer IPOs powered by blockchain technology and smart order routing. It is set to launch in Q4 2018, and more details are expected to be released as that date draws nearer.
Additionally, SprinkleCoin is also a partner of SprinkleBit – the premier social network for investing with users from all across the world. Users of this social platform can purchase premium services within the app using SprinkleCoin. With many different instances where Sprinklecoin proves to be of great use, there is little reason not to want to participate in the rising of this revolutionary crypto-currency. As many people have already stated that its ICO was one of the best of this year's – there's no saying where this innovative technology can go forward.
About SprinkleCoin:
Sprinklecoin is a revolutionary new cryptocurrency with a vision to unleash true globalization of banking for everyone. With the use of evolutionary blockchain technologies, they are creating the first open and borderless ecosystem of financial services. Simplification at the core of this ecosystem will incentivize all participants – users, traders, and partners – to work in the same direction to make a global frictionless investment environment. Combined, their connected products will give users all the tools they need to quickly and effectively take control over their financial future, directly from their smartphones.
For more information:
www.sprinklecoin.com
SprinkleCoin is listed on several exchanges:
1
https://wallet.latoken.com/market/Crypto/ETH/SCOI-ETH
2
https://ddex.io/trade/SCOI-WETH
3
https://tokenjar.io/SCOI
Media Contact
Company Name:
SprinkleCoin,LLC
Contact Person: Antoun Toubia
Email: info@sprinklecoin.com
Country: Luxemburg
Website:
https://www.sprinklecoin.com
/
Contact
SprinkleCoin
Antoun Toubia
+372 547 90 999
https://www.sprinklecoin.com
owner@uci.global

Contact