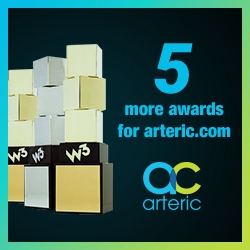 Summit, NJ, October 12, 2018 --(
PR.com
)-- Explosive business growth never gets old. Neither does winning website design awards at competitions that include submissions by Fortune 500 companies and agencies like Abelson Taylor, Digitas, and Klick Health.
Arteric, a healthcare digital marketing agency renowned for exceptional website and software development skill and search marketing expertise, won 4 Gold Awards and 1 Silver Award at the 2018 W3 digital marketing competition. W3 awards recognize excellence in websites, Web Marketing, video, mobile sites, mobile apps and social media content. The competition is sanctioned and judged by the Academy of Interactive and Visual Arts, an invitation-only body consisting of top-tier professionals from acclaimed media, interactive, advertising, and marketing firms. AIVA members include executives from organizations such as AvatarLabs, Big Spaceship, Block Media, Conde Nast, Disney, Microsoft, MTV Networks, Wired, and Yahoo!
"Over the course of 20 years, the websites, software, mobile apps, and marketing solutions that we conceptualized, designed, and developed have earned accolades for their unparalleled performance and reliability," states Hans Kaspersetz, Arteric's president and chief strategist. "Winning multiple design awards in a fourth competition against industry giants demonstrates that our user-experience and graphic design capabilities match and exceed the extraordinarily high standards that we set for our other core capabilities. I am overjoyed with our team's performance. I would like to give special recognition to Ross O'Shea, Anthony Outeiral, Kristen Giordano, Rob Szpila, and Lloyd McGarrigal. Their effort as well as the support of many others made these awards possible."
Ross O'Shea led the team that designed arteric.com and shared these thoughts. "A pillar of Arteric design and development strategy is to position our clients for success years beyond launch. To that end, we focused on creating a rich and spatial customer experience for arteric.com. Our design leverages 3 axes, taking the user into z-space and
mimicking a virtual reality experience right in the browser
. In this way we prepared the designs for augmented and virtual reality. Pushing the user-experience envelope required designers and developers to overcome several performance and functional challenges on desktop and mobile platforms. Simultaneously, we integrated the analytics team to ensure that we created an immersive experience that achieved our SEO goals to improve search rankings, traffic, and conversions."
Mr. Kaspersetz sums up the value of 13 design awards. "Arteric's story is expanding significantly, as are the services that we provide. Recognition of our design and UX capabilities demonstrates that we have the imagination, creativity, rigor, foresight, and skill to help our clients exceed their goals and engage meaningfully with their audiences. Our mission is to 'explore the boundaries of the possible, and create life changing experiences...' this is only possible when the design is world-class. It's reassuring that the judges in 4 highly competitive design competitions agree."
Work With Arteric
For 2 decades, Arteric has combined data-guided, future-forward design with experience-driven insight to create competitive advantage for pharmaceutical brands, biotechnology brands, and healthcare organizations. Contact Hans Kaspersetz at 201.546.9910 to advance your brand with leading-edge digital marketing solutions that work everywhere, every time.
About Arteric
Arteric is a pharmaceutical and biotechnology digital marketing agency renowned for its expertise in digital brand strategy, software engineering, data, search engine optimization, search engine marketing, CRM, and analytics. Arteric is the digital agency that will propel your clinical trials recruitment, premarket shaping, disease state education, brand launch, or brand revitalization forward with digital insights and execution that cannot be matched.