AlpStories - Embracing a New Model for the Creation of Skincare Products
AlpStories is reshaping how the beauty consumer will shop in the future, demanding the ability to personalize products to their own skincare needs while using ingredients that are organic and pure.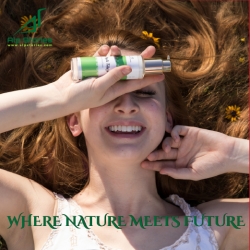 Atlanta, GA, October 14, 2018 --(
PR.com
)--
AlpStories
Inc., based in Atlanta, Georgia, is a personalized organic skincare line for women. The company's
proprietary robotic technology
enables customers to self-create skincare products to meet their own unique needs. All skincare products have the highest possible share of pure organic ingredients and are made-to-order, containing carefully selected bioactive botanicals from the Alps, one of the purest places on Earth.
AlpStories - Where Nature meets Future
Each customer creates her own unique and quality organic skin care products via a smart factory on the phone or through the website. There are millions of different variations depending on ingredients, fragrances, concentration, skin need... all individualized to a woman's skin.
AlpStories - A brief history
The rich experience of the founding team led to the realization that there is a new trend of personalization of technology and skincare products. People differ in their views and needs in taking care of their bodies and relationship with their own skin health. And because we are all different, we also need a formula that meets the needs of our individual skin. At the same time, the founders researched ways to use robotic technology for efficient mass customization.
That sparked the idea of AlpStories in 2014, a new model for personalization of skin and hair care products while leveraging the power of pure organic ingredients from the Alps. The founders came up with a unique solution to these challenges and found a way to mix organic ingredients in a fast and efficient manner, while automating the process of ordering, filling and even personalized branding. A vital part in this process is the combination of the BeautyWizard, an online diagnostic tool (with a precise algorithm) that acts as a smart factory for the consumer, and a
robot
that manufactures personalized skincare products in real time.
The founding team of AlpStories is made up of skincare industry experts and includes Danijel Hubman and Oksana Lipitska in Slovenia, together with Paul Nunnari and Astrid Androsch in the United States.
All truly organic skincare products and the tool to customize facial creams are readily available via AlpStories.com, the BeautyWizard (and robotic system) allowing customers to create millions of variations will be launched in the US market in early November 2018.
"AlpStories and our personalized process for organic skincare brings the future to consumers in 2018. We are excited to offer this to the US market place through our online site www.alpstories.com. We believe that we will meet the consumers individual needs - Where Nature truly meets Future."
- Paul Nunnari, President of AlpStories
Contact
AlpStories Inc.
Paul Nunnari
404-480-2376
www.alpstories.com

Contact