ProcurePort Shines in Prestigious Digital Procurement Industry Report
Global digital transformation consultation leader, Capgemini, finds ProcurePort to be an "All Star" digital procurement solution.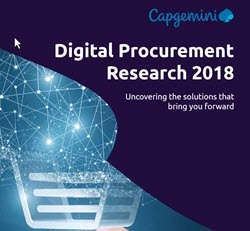 Indianapolis, IN, October 16, 2018 --(
PR.com
)-- Capgemini published its
2018 Annual Digital Procurement Report
on October 9, 2018, and named ProcurePort one of the digital procurement industry's most highly-recommended solutions.
The research team studied the solutions offered by 36 digital procurement software companies and graded them in the following categories:
- Supplier management
- Sourcing
- Contracting
- Purchasing
- Accounts payable
- Reporting and analytics
- Master data management
ProcurePort was placed in Capgemini's "All Star" category in response to the solutions' depth of functionality and versatility across use cases. Within the report, Capgemini notes: "ProcurePort performs well in the Purchase-to-Pay and sourcing areas with good reporting and analytics capabilities." The research team also praises ProcurePort's "relatively wide and deep P2P functionality."
In response to this review, ProcurePort Director, Jemin Patel said, "We're excited to have been identified by a leading, global research firm in terms of the value of our solution. For over four years, our team has delivered focused procurement solutions for companies in a wide range of industries, and it's great to be recognized for it."
About ProcurePort
ProcurePort is a leader in providing on-demand e-sourcing software (
Reverse auction software
/ Spend analysis software / RFQ & RFP software) and services (Reverse auction services / Spend analysis services) for startup companies as well as Global 1000 organizations. Operating in a wide range of industries from manufacturing to government, ProcurePort's clients benefit from both the technology and service expertise that can help them automate their procurement processes without time-consuming or expensive technology deployment. ProcurePort's affordability enables startups to compete with larger organizations and reach new levels of success in deploying an E-Marketplace in a specific vertical. For more information, visit https://www.ProcurePort.com or call 1.866.643.8153 (toll-free in North America).
Note To Media: To schedule an interview with a ProcurePort representative to discuss trends in e-sourcing,online procurement, e-marketplaces, reverse auctions or forward auctions, contact Jack Smith: jack(dot)smith(at)procureport(dot)com.
Contact Information
Jack Smith
ProcurePort
https://www.procureport.com
+1 866-643-8153
Contact
ProcurePort
Jack Smith
866-643-8153
www.procureport.com

Contact
Multimedia
ProcurePort provides an end-to-end Source to Pay solution complimented with Consulting Services.