Broward Motorsports Dominates Jet Ski- Personal Watercraft World Championships
Top jet ski, personal watercraft race team dominates world championships and rider Chris MacClugage becomes the winningest racer of all time, while 13-year-old protegee asserts himself in adult men's class of Sport-Spec racing division of the IJSBA, ProWatercross, and P1-AquaX racing circuits. This team, it's racers and owner are the team to watch.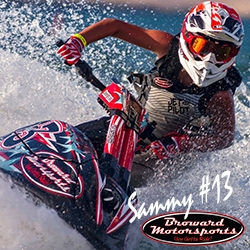 Broward County, FL, October 19, 2018 --(
PR.com
)-- Winningest Jet Ski Riders of All Time Mentor 13-Year old Protégée.
Florida's Largest Powersports Dealer Works Hard to Promote Personal Watercraft Racing.
Broward Motorsports
is proud to congratulate their 2018 race team riders on their outstanding finishes at the 37th Annual IJSBA World Finals Jet Ski Competition, where 50 nations were represented by the best riders from each country, competing in closed-course competitions for world titles on the personal watercraft (PWC) from all manufacturers.
Chris MacClugage: Sponsored by Broward Motorsports, Monster Energy, Yamaha & powered by Dean's Team rider Chris captured his 24th World Championship making him the winningest personal watercraft racer of all time. This year's title was in the Pro-Am Runabout Stock Class. This was Chris's third consecutive Pro-Am Stock Championship. In 2018 Chris became co-owner of
Broward Motorsports Tequesta
where he enjoys championing family awareness of the recreational side of personal watercraft, teaching PWC skills, and spending time with his 3 beautiful children and lovely wife Rachel "also a champion PWC racer."
Sophie Francis: Sponsored by Broward Motorsports & Dean's Team rider captured her first World Title in the Pro Women's Runabout class. Sophie comments, "I am seriously lost for words. I am now the fastest woman in the world! I have been training so hard all year, and I was seriously not giving up without a fight." Broward Motorsports is also quite proud to mention that in 2017 Sophie competed against an all-male field and won the Men's Novice Limited class.
Eric Francis: Sponsored by Broward Motorsports & Dean's Team rider Eric competed fiercely with fellow teammate Chris MacClugage in the Pro-Am Runabout Stock Class all season, ultimately finishing #2 in the world. Eric has won 8 World IJSBA Championships and numerous national championships.
Troy Snyder: Sponsored by Broward Motorsports, powered by Snyder Built & Judge Motorsports Team Rider won his 4th World Title in the Veterans Runabout Limited (35+) class and fiercely fought for 3rd place in Pro-Limited Runabout.
Sammy Nehme: Sponsored by Broward Motorsports, powered by Judge Motorsports is the teams youngest rider at only 13-years old. Sammy raced strong on season and finished as #6 best Sport Spec rider in the world, racing against adult men more than twice to nearly four times his age! Sammy also competed fiercely in the Jr. Ski standup division finishing the season as the 11th best rider in the world after a nasty crash that moved him back many positions ... This 13-year old protégée is being mentored by this team of champions making him the young man to watch on the IJSBA, P1-AquaX and ProWatercross racing circuits.
David Cabrera: Sponsored by Broward Motorsports, powered by Judge Motorsports rider competed in three classes finishing with a 5th in Master Ski Stock, 5th In Amateur Vet Ski Stock and 15th in Pro-Am Ski Stock.
Jimmy Wilson: Sponsored by Broward Motorsports, powered by Judge Motorsports rider competed in two classes finishing 2nd in the Pro-Am Ski GP class and 3rd in the Pro-Am Ski Lites.
Ken Waddle: Broward Motorsports rider powered by Judge Motorsports fought hard and had good position in the Sport Spec class until he suffered heartbreaking mechanical failure that caused him to not be able to complete the race.
And last but certainly not least is Broward Motorsports Team Captain and President Sam Nehme, also powered by Judge Motorsports. Sam battled it out with the world's best racers in the Pro Sport GP class finishing with a hard-earned 3rd in the 50-nation field. Sam has previously won several world and national titles in his distinguished career of over 30 years.
Further congratulations go to Chris MacClugage who stunted, and Sam Nehme who acted, in the filming of "HOT WATER," a Larry Rippenkroeger film, Hollywood's latest action comedy and the first ever to feature personal watercraft racing as its action centerpiece, shot live during the week.
Be sure to catch Sam Nehme as the new co-host of the History Channel's hit show
"It's How You Get There."
Broward Motorsports
("BMS") is Florida's largest powersports dealer group now with 7 dealerships serving Southern Florida. BMS and Sam Nehme are highly sought after as consultants by manufacturers and racing associations alike, and Sam works tirelessly to promote broader safe riding awareness and to champion good sportsmanship while he and his wife Ashley support many local charities and schools.
Contact:
info@maxoppmarketing.com
Contact
MaxOpp Marketing
John Vaughan-Chaldy
760-494-0294
maxoppmarketing.com

Contact
Multimedia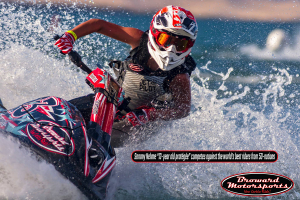 13-year old Sammy Nehme races against the world's best riders from 50-Nations in the world of Jet Ski, Waverunners and Sea-Doos personal watercraft from Yamaha, Kawasaki, and BRP.