The Wendy Woo Band to Headline Fundraiser to Support Affordable Mental Health Support in Denver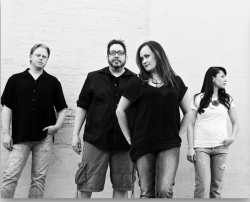 Denver, CO, October 25, 2018 --(
PR.com
)-- Colorado favorite, The Wendy Wood Band, will headline a fundraiser at Dazzle, Denver's premier jazz venue, on Sunday, November 4, 2018, from 5:30 – 9:00 p.m. This second-annual "Gift of Music" fundraiser is organized to help support People House's effort to keeping mental health care accessible to all.
The Wendy Woo Band is a poly-ethnic, power pop, song-rock, six-piece band with sweet vocal harmonies and shuddering grooves. Wendy has performed at top venues across the country including the Fox Theater and Red Rocks in Colorado, the Bitter End and the Living Room in New York, the Hotel Cafe in Los Angles, the Bluebird Café in Nashville, Sweetwater in Mill Valley, and Eddie's Attic in Decatur, Georgia. Anticipating the rise of the independent artist, Woo formed her own corporation, Woo Music. Through that she runs her own record label (13 projects to date), publishing company, booking agency, and management company.
Wendy Woo has led anything but a "normal" life, which separates her from the average performer. As the daughter of bohemian parents who were founding faculty members at Naropa University in Boulder Colorado, her childhood home was a truly eclectic social center. Influential Beat writers such as Allen Ginsberg, William S. Burroughs, and Ken Kesey would be regulars in the living room.
This unusual setting helped develop Wendy into an emotive singer as a child. She started playing the guitar just so she could provide her own accompaniment. After mastering the guitar, she began writing songs and performing in songwriting circles. She attended both the University of New Mexico and the University of Colorado, where she studied a variety of musical genres, theory and composition. Her many musical influences include everyone from folk chanteuse Suzanne Vega to the legendary Paul Simon. The trademark blended rhythms in Simon's music inspired her to add similar complexity to her own compositions.
With this in mind, Wendy developed a technique she calls "Slaptap," a method of creating a captivating visual and percussive backdrop using the guitar body and fret board.
The Denver Post says, "...she has established herself as a premier rock and folk performer…"
Jeff Pearon, of the Bluebird Cafe in Nashville, TN, touts, "I've hosted the Bluebird Cafe's Sunday writer's night for 14 years. When I heard Wendy Woo for the first time, I knew I had probably witnessed the most unique performer ever to grace our Sunday night stage. Her voice has many colors, her guitar playing is incredible, and her presence is beyond captivating. I truly believe I caught a glimpse of someone the whole world will know someday."
Will Scheffer, creator/executive producer, HBO's Big Love says, "She is awesome. Wendy is truly one of the most talented performers I have ever experienced. She is the real deal. And will clearly go as far as she desires. It's rare to witness such striking talent, as you know, and I thank you for sharing her."
This second-annual "Gift of Music" fundraiser is organized to help support People House's effort to keeping mental health care accessible to all. This event will feature three bands, a silent auction and raffle, and special remarks by Andrew Romanoff, former speaker of the Colorado House of Representatives and current CEO of Mental Health Colorado. Tickets are $35 and can be purchased at www.dazzledenver.com.
Dazzle, voted by Downbeat magazine as one of the top 100 jazz clubs in the world, recently moved into its new location in the historic Baur's building at 1512 Curtis Street. Founded in 1998, Dazzle has become renowned over the last two decades for booking internationally known, Grammy-winning, and highly talented, world-class musicians. The new location in the Baur's building, which is on the National Register of Historic Places, doubles the space available for Dazzle customers and musicians alike.
People House is a non-profit organization with a successful 40-year history of responding to the community's need for personal and spiritual growth and emotional healing. It serves people who are in crisis, life transition and/or who are motivated to develop themselves physically, psychologically, and spiritually. Its Affordable Counseling Program provides professional counseling on an income-based sliding scale basis. This organization served 704 clients in 3 locations in 2017. For more information: https://peoplehouse.org/
Contact
People House
Janet Ferguson
303-480-5130
peoplehouse.org

Contact