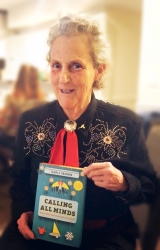 Nashville, TN, October 26, 2018 --(
PR.com
)-- Join Dr. Temple Grandin and speakers for this special event in Dallas, TX on November 30, 2018.
Dr. Temple Grandin has served as an inspiration and a role model to hundreds of thousands of families and persons with autism. In this unique presentation, Temple eloquently and candidly describes the challenges she has faced and offers no-nonsense ideas on how others dealing with autism can reach their full potential.
Anita Lesko, BSN, RN, MS, CRNA, was diagnosed with autism at age fifty. Despite all the challenges and obstacles, Anita forged ahead to obtain exciting goals. Having been honored by the United Nations as a guest speaker for National Autism Day in 2017, Anita is an advocate for people with Asperger's Syndrome.
Dr. Jim Ball, a Board Certified Behavior Analyst, has been in the autism field for over twenty-five years providing educational, residential, and employment services to children and adults affected by autism. As President/CEO of JB Autism Consulting, he provides private consultation to organizations, schools, and families regarding staff training, parent training, home support services, classroom design/support, and behavior management/ assessment.
About the Venue:
Nashville Airport Marriott
Nashville Ballroom
600 Marriott Drive
Nashville, TN 37214