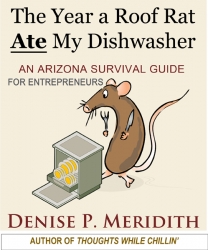 Phoenix, AZ, November 06, 2018 --(
PR.com
)-- During the past 23 years, Denise Meridith has been well-known in Arizona for activities like managing 14 million acres of public lands during her tenure as Arizona Director of the Bureau of Land Management; starting the Greater Phoenix Black Chamber of Commerce; or her public relations role in the passage of the referendum for building the Arizona Cardinals' stadium in Glendale. But, she has also been an author and public speaker most of her life, publishing over 1000 articles for newspapers and magazines. Her latest book,
The Year a Roof Rat Ate My Dishwasher: An Arizona Survival Guide for Entrepreneurs
, is a humorous self-help tome for business people who live in, or are thinking of moving to, the fifth largest state in the U.S.
One of Meridith's previous books, Thoughts While Chillin', detailed how she, a Black girl born in Brooklyn, New York, ultimately became the highest career official in a conservative Federal agency, managing 10,000 employees, 200 offices, and $1.1 billion budget. Though she held nothing back in describing the sexism and racism she experienced, much of the book was a humorous look at life in America, from the 1950's until the early 2000's.
The new book picks up where Thoughts left off and focuses on Meridith's post-government private and non-profit careers, and the tumultuous times in Arizona and the U.S. from the mid-2000's until 2018. Again, though she discusses the impact of the recession and some of the image-damaging faux pas actions of the State, the book is a funny and positive view of the second-fastest growing city in America: Phoenix, Arizona.
Throughout the book, Meridith gives advice to small and large organizations about how to weather (sometimes literally), the unique challenges business people face in the Sonoran Desert - from roof rats to haboobs. Meridith also gives kudos to Jerry Colangelo, the late Senator John McCain, Calvin Goode and other icons in the community.
During her previous periods as a journalist for the Arizona Republic, Phoenix Business Journal, Home & Lifestyle Magazine, and Examiner.com, Meridith focused on small, disadvantaged, women and minority-owned businesses. She provides shout-outs to many in the book and will continue to promote Arizona as a great place to start a business during her book tour, and on The Year a Roof Rat Ate My Dishwasher website. Meridith will continue to provide free leadership tips via her weekly Thoughts While Chillin' blog, which has entertained readers for over a dozen years.