DonorDrive Staff Raises $60,000 for Children's Miracle Network Hospitals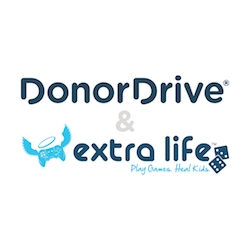 CIncinnati, OH, November 07, 2018 --(
PR.com
)-- Using the peer-to-peer fundraising technology they've built, DonorDrive's team has raised over $60,000 for Children's Miracle Network Hospitals during the company's eight years of participating in the Extra Life event.
Extra Life unites thousands of gamers around the world during a 24-hour gaming marathon in support of Children's Miracle Network Hospitals. DonorDrive's innovative new feature, Live Fundraising™, launched less than a month ago, already has nearly 11,000 fundraisers signed up platform-wide. Participants who've used Live Fundraising so far have raised 75% more than those who didn't.
Live Fundraising lets supporters easily add their streams from Twitch, YouTube, or Mixer to their fundraising pages and share it with their friends, family, and followers. Live Fundraising encourages more donations by making viewers part of the action. Supporters can give instantly, without missing a minute of the stream, and fundraisers can thank their donors live, in real time. Live Fundraising can be used for any type of event, from gaming to walks to DIY campaigns.
"We love participating in Extra Life. It gives us the opportunity to fundraise using the software we've built and it's all for the kids," said Tim Mixell, DonorDrive's Application Architect. "It's been fun to see this event grow. This year, nearly 80% of our staff registered. Many staffers brought family members, and we had more than 60 people here at the office playing in Extra Life this year."
For more information about DonorDrive visit
https://www.donordrive.com
About DonorDrive
DonorDrive helps nonprofits to raise more money through fundraising technology, marketing and interactive design services. With DonorDrive, organizations like World Vision, Children's Miracle Network Hospitals, American Foundation for Suicide Prevention and the Arthritis Foundation have raised more than $1 Billion. Find out more at
https://donordrive.com
.
About Extra Life
Extra Life unites thousands of gamers around the world to play games in support of their local Children's Miracle Network Hospital. Since its inception in 2008, Extra Life has raised more than $40 million for sick and injured kids. Learn more at
https://www.extra-life.org/
.
Contact
DonorDrive
Joanna Harvey
866.244.0450
https://DonorDrive.com

Contact