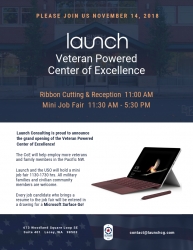 Lacey, WA, November 08, 2018 --(
PR.com
)-- Launch Consulting, a Bellevue-based tech and business consulting company, is excited to announce the opening of a new Center of Excellence (CoE) in the South Puget Sound on November 14.
"The Center of Excellence (CoE) will help Launch employ more veterans and family members in the Pacific Northwest. Our vision is for other companies to join us in offering services out of the CoE to create more employment opportunities," said Wud Pocinwong, Launch CEO.
Several of the initial managed services housed out of the Lacey CoE will support Microsoft businesses. Microsoft executive Joanna Stenzel, long-time supporter of Veteran initiatives, will attend the ribbon cutting ceremony.
"I was in Portsmouth, England for the 50th Anniversary of D-Day commemoration during my college years," recalled Joanna Stenzel, Director, Content Moderation and Catalog Operations for Microsoft Corporation. "I was surrounded by gentlemen, who, when they were my age or even younger, were sent to the beaches of Normandy to endure and survive a gruesome battle. They lived through that horrific day to shape the world and so that I, ultimately, have the freedom and security I enjoy as an American. There is no way I could repay them, but they absolutely earned all my respect. With the opening of the Launch CoE, I hope that it might serve to support those who have volunteered themselves for the sake of us all."
After the Ribbon-cutting and reception, Launch will host a mini job fair and are inviting the public. All job candidates and employers are welcome, free of charge. USO Pathfinders also will participate in the job fair. All candidates who bring a resume to the job fair will be entered in a drawing for a Microsoft Surface Go.™
The Grand Opening also will feature remarks from WA Congressman Denny Heck (10th District) and Mayor Andy Ryder of Lacey, WA, as well as officials from Department of Veteran Affairs, Joint Base Lewis McChord and the USO.
Launch has a long history of pioneering partnerships for Veteran and Military Family employment programs, including the Microsoft Software & Systems Academy (MSSA) and the Starbucks "Serve With Us" initiatives. The CoE will be officially opened by a graduate from the first MSSA class who was hired by Launch.
Launch invites the military and public to join the celebration of this initiative to bring high tech, high-trajectory roles to the South Puget Sound.
About Launch Consulting
Launch, a TA Group Holdings company, is a veteran-owned and operated IT and business consulting firm that helps our clients navigate in the age of transformation. Practice areas include Advanced Analytics & Machine Learning, Business Consulting, Cloud Development & Integration, Customer Experience, and Operations & Support. Our rapid deployment teams are small and agile, so we move faster and act as a force multiplier for our clients. Please visit us at
launchconsulting.com
About the Veteran Powered Center of Excellence
The CoE will focus on increasing employment opportunities for military families and helping more employers benefit from the skills from those who served. Launch will house managed services in this CoE to serve businesses needing an alternate source of talent from competitive markets such as Seattle. We bring a team leadership structure, project management best practices from our PMO, recruiting, training and infrastructure. Microsoft is our initial client with several teams in the Center of Excellence, and our vision is for other companies to join us and take advantage of the CoE:
1. as co-working space (sharing facility costs)
2. by offering projects and services in the CoE either through Launch or independently
3. participating in the free job fair on November 14.
Location: 673 Woodland Square Loop, Suite 401, Lacey WA 98503
Employers who would like to participate in the Job Fair: RSVP to makeitfly@launchcg.com or call (425) 747.6111.
Job Candidates may request more information at contact@launchcg.com