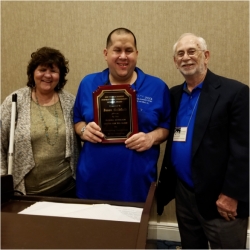 West Palm Beach, FL, November 10, 2018 --(
PR.com
)-- The Florida Outreach Center for the Blind, Inc. hosted its 12th annual Thomas Hartig Dining In The Dark event. The purpose of the benefit is to educate our community about the challenges of blindness and to raise much needed funds for programs that help those with vision loss. Dining in the Dark is a unique three-course meal in complete darkness accompanied by live entertainment and a silent auction.
This event is named after Dr. Thomas Hartig, who brought newspapers via the telephone to blind persons throughout the country and who was an inspiration to us all. The Florida Outreach Center for the Blind has created the Thomas Hartig "Inspirational Community Member" Award in his memory. Every year, the "Inspirational Community Member" Award is given to a blind individual that is an outstanding community member and an inspiration to others. Jason Goldfield was this year's award recipient. Jason was born with a genetic degenerative eye disease which has progressed to the point that he can only make out blurred objects. He is a specialist in Adaptive Technology, as well as in customer relations. He received his A.S. degree in Computer Information Systems from Palm Beach State College. While at PBSC, he taught students in the use of software applications. He then worked as a Customer Service Resolution Specialist for Office Depot and advanced to Account Manager. Mr. Goldfield has an endorsement certificate in screen reader and magnification software from the State of Florida Division of Blind Services and instructs students at FOCB in all phases of adaptive technology for the visually impaired and blind. Mr. Goldfield was formally the President of the Palm Beach Chapter of the Florida Council for the Blind and has a guide dog, Max. In 2014, he and his wife extended the family tree by adopting a fourteen-year-old daughter.
The 12th annual Thomas Hartig Dining In The Dark was a huge success, reaching over 200 guests. The generosity of sponsors, donators, and guests will enable our Center to continue providing services to the estimated 48,000 visually-impaired persons residing in Palm Beach County. A special "thank you" to the major sponsors this year for supporting one of the most unique public awareness and fundraising events to occur in our area:
Castleberry Financial Services Group, LLC
Contact Scott P. Strochak, Sr. Exec. V.P.
Scott@CastleberryFinancialServices.com 561-781-7712
RSM US, LLP
Contact Chrissy Alves, Resource Director
chrissy.alves@rsmus.com +1 410-246-9162
Lake Worth Lions Club
Contact President Donald Vinniti
don48vinn@gmail.com