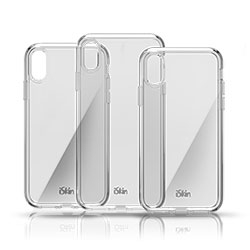 Toronto, Canada, November 14, 2018 --(
PR.com
)-- iSkin, a premium brand for mobile accessories, launches its all-new Claro clear case line for Phone XS, XS Max and XR. The aptly named Claro is designed to offer effective case protection that appeals to the minimalist and purist amongst iPhone owners.
The Claro is made with a premium thermo-plastic polymer that is made glass-like in finish and gives the iPhone a nearly invisible layer of scratch and impact protection. The Claro is free of BPA's and phthalates yet flexible and form-fitting to absorb impacts and provide a reassuring grip on the iPhone it protects. The Claro also features raised edges around the iPhone's screen to protect during face down placements.
With its pure, glass-like finish, the Claro is designed to provide a nearly invisible protective layer around the iPhone's body and features a non-staining exterior finish to resist color staining. It is also radio transparent to allow efficient wireless charging and Apple Pay use.
The new iSkin Claro is offered in three distinct models to fit the iPhone X/XS, XS Max and XR. It's available today at iSkin.com and retails for $34.99 USD each.
See web version with press photos here: http://bit.ly/claroXS2018
About iSkin
Since 2002, iSkin has created some of the best cases for iPod, iPhone, iPad, Samsung, Blackberry and others that ignited an entire industry. Today, iSkin continues the tradition of bringing premium products with uniqueness, quality and safety to its customers – designed with passion and made with love.
Press Contact:
marketing@iSkin.com
www.iSkin.com