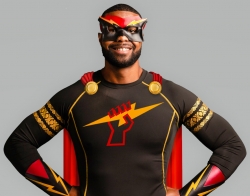 Atlanta, GA, November 14, 2018 --(
PR.com
)-- To celebrate their new relaunch in Georgia,
Kratos Gas & Power
has given their brand a face lift, or really, a new face entirely in the form of Captain Kratos - the money-saving, energy-conserving superhero. Captain Kratos, was created to embody and exemplify the kind of gas company Kratos Gas & Power is. Not only do they provide gas to residential homes throughout Georgia, but they work hard in the community, volunteering and giving back whenever possible. This is a fresh take on what a power company can be - fun and relevant - as well as a perspective that Kratos hopes will set them apart in the state of Georgia, a deregulated energy market that allows the consumer to choose between natural gas companies for their homes and businesses. This market environment can be beneficial for any customer and hard to establish strong standing for any emerging company. Kratos Gas & Power is committed to offering incentives and competitive pricing. "With so many consumers looking to save money on their utility bills, we believed Kratos Gas & Power needed to stand apart from other suppliers in this crowded market. Captain Kratos was created to deliver a message that you really don't have to be a superhero to save some money. With this new site design, we aim to provide the most competitive pricing with ease of use. Since its launch we have doubled our weekly enrollments and aim to keep providing competitive pricing and expand our deregulated territories." - Tom Williams, President, UET.
Launching a new, redesigned website, Kratos hopes that the new look will help current customers navigate their account more easily and help new customers find the service that works best for them. They've created a program that will make it easy for anyone still using Atlanta Gas Light (AGL), to switch to Kratos services. Captain Kratos will also be featured throughout the website, along with helpful home tips and a savings calculator to estimate your yearly savings by switching to Kratos. Lastly, and most importantly, Kratos is offering a web-only discount for your first two months of service when you change services.
Kratos Gas & Power is a company with their customers in mind and continues to work to be the best energy supplier in Georgia.
United Energy Trading LLC (UET) is an energy company expanding their residential services across the continental United States. With 12 offices around the U.S., providing natural gas access to three states, UET is a corporation that is growing and changing with the times. Several different businesses are under the umbrella of UET and they range from distributing natural gas to refining crude oil. Falling under this umbrella, is Georgia's own Kratos Gas & Power. For their future in the state of Georgia, Kratos Gas & Power has gone in a new, bold direction.