Nebula Systems Confirm Telematic Chipset, NC1701, First Commercial Firmware Release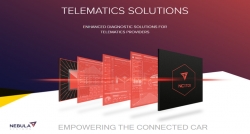 Buckingham, United Kingdom, November 16, 2018 --(
PR.com
)-- Connected Car Innovators Nebula Systems have released an exciting new hardware solution to greatly increase access to valuable vehicle data.
The NC1701 is a dedicated vehicle communications chip solution capable of extracting OEM data from any vehicle. It can be embedded into any telematic device and has been designed from the ground up with a focus on telematic applications and removing the headache of understanding vehicle CAN systems, from hardware partners.
Roman Di Lullo, CEO of Nebula Systems said, "We identified that the complexities of OEM communication protocols were holding back many companies in the telematics space from exploiting the wealth of data available in modern cars. NC1701 enables easy access to this data which we expect will lead to some exciting new applications."
The NC1701 chip is already being embedded into next generation telematics devices by Nebula's hardware partners like META Systems and Teltonika. The latest October 2018 1.0 firmware release brings NC1701 out of Beta testing and into a fully operational state.
With standard features such as "Automatic VIN reading," "Advanced low power and wake up modes," "Smart ignition detection for electric and hybrid vehicles," the NC1701 has the potential to transform a telematic device's data access capabilities.
The NC1701's core data capability allows simple access to thousands of OEM data points such as:
Fuel Level
Odometer
Tyre Pressure information
Service information (date/mileage to next service)
Vehicle occupancy
Door Status
Complete Vehicle Health
- to name but a few
So many telematic devices claim to have "diagnostics" but the reality is that they only cover generic OBDII (J1979) engine data. This is a tiny subset of emissions data unrelated to the mass of OEM data swirling on every car's CAN network. NC1701 enabled devices to capture this extended data without the embedded device maker having any previous knowledge of vehicle ECUs or CAN.
The NC1701 can be applied across a wide range of Connected Car industries that are interested in expanding their data access abilities:
Rental, UBI, Fleet, Roadside Recovery, Car Sharing, Fuel Rewards, Market Research, In Car display, Car Driver Apps and many others.
For more information please get in touch at NebulaSystems.com
Contact
Nebula Systems Ltd
Andrew Steer
01280816333
www.nebulasystems.com

Contact