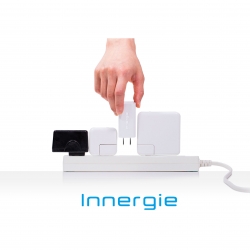 Taipei, Taiwan, November 20, 2018 --(
PR.com
)-- This ultra-compact, multiple-award-winning adapter for mobile devices will launch December 1, 2018.
Innergie is proud to announce the launch of small and powerful 60W USB-C adapter, which will be available through Amazon on December 1, 2018. Innergie is part of the Delta brand, a global provider of power and thermal management solutions that is an outsource producer of Apple products.
The USB-C Laptop Adapter
is ultra-compact – it's smaller than a 55cc shot glass and can fast-charge most mobile devices; it has sophisticated circuitry with micro-reduction techniques and offers maximum energy protection, only available on Innergie products, for all of the devices using it. The key to the 60 C's charging efficiency is power delivery. It comes equipped with five different outputs: 5V, 9v, 12V, 15V and 20V; thus providing optimum power to whichever device it is being used with. This game-changing little adapter comes in two versions, U.S. and International and will be sold as a set with the
MagiCableTM 150
. It will, therefore, charge not only USB-C devices but all types of laptops.
The MRSP for this adapter will be $109 and $119 for the U.S. and International version. However, early-bird purchasers willing to leave their email or share with friends through the landing page will be eligible for discounts based on a tier system which began November 16 onwards. For example, customers leaving just their email will receive a $5 coupon, those sharing with 10 people will receive a $25 coupon and anyone sharing with 50 people will receive a $25 coupon and even get the world's smallest charging set for free.
"This amazing product has already garnered considerable media attention," says Managing Director, PS. Tang. "Funded through Kickstarter, the original campaign raised over $300,000 U.S. – more than 15 times the original goal."
The 60C has won more than 29 awards to date, including Computex Best Reward, International Design Excellence Awards, and the Golden Pin Design Reward.
Visit the website for more details on this tiny powerhouse and for the opportunity to obtain
discounts for your purchase
.
Press Contact:
Regina Lin
Phone: +886 923520025
Email: regina@primeplus.business
Website: http://www.myinnergie.com/us