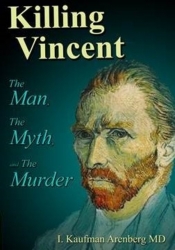 Englewood, CO, November 20, 2018 --(
PR.com
)-- What: HCA/HealthONE's Swedish Medical Center, in partnership with the Landmark Chez Artiste Theatre and Tattered Cover Book Store, will host a book signing for retired Swedish Medical Center physician, Irv Kaufman Arenberg, MD, author of the new book, "Killing Vincent: The Man, the Myth and the Murder."
When: Wednesday, November 21 prior to the showings of the movie At Eternity's Gate, starring Willem Dafoe as Vincent van Gogh.
10:30-11am – Media availability, Dr. Arenberg
11-11:45am – Book signing 1
1:30-2:15pm – Book signing 2
4-4:45pm – Book signing 3
6:30-7:15pm – Book signing 4
Where: Landmark Theatres Chez Artiste Theatre, 2800 South Colorado Boulevard, in the University Hills Plaza, Denver, CO 80222
More information: Irv Kaufman Arenberg, MD, a retired ear surgeon from Swedish Medical Center, is a specialist in Meniere's disease, a disorder of the inner ear that causes episodes of vertigo. Prior to the 1960's, the solution to cure the episodic vertigo was to destroy the inner ear, causing deafness in the ear. During his tenure as a physician at Swedish Medical Center, Dr. Arenberg performed a groundbreaking surgical technique on many patients in order to minimize the effects of the disorder and improve the loss of hearing.
Dr. Arenberg's expertise on the rare disorder led him to a shocking new theory regarding the famous and misunderstood death of Vincent van Gogh. Arenberg has been publishing on van Gogh ever since he wrote a cover-featured "Special Communication" article in the Journal of the American Medical Association (JAMA). This report, whose publication coincided with the 100th anniversary of Vincent's death in July 1990, corrected the old misdiagnosis for Vincent's noteworthy attacks—attributing them to an inner-ear disease (Meniere's disease) and not to epilepsy. He never believed at that time that van Gogh committed suicide.
Arenberg has continued his groundbreaking research to this day and, in his new book, "Killing Vincent: The Man, the Myth and the Murder," he shares the evidence he's unearthed since his revelations in 1990. Arenberg says his research strongly suggests that the artist may have been murdered and that an elaborate scheme was concocted to make it appear that he committed suicide.
Did van Gogh take his own life in a fit of madness? Or did something much more sinister happen to one of the world's greatest visionaries?
"Everyone is fascinated and intrigued by the iconic Vincent," said Dr. Arenberg. "But when you substitute premeditated murder and an elaborate cover-up, then add to that an intriguing romantic twist that could provide a motive for his murder like an honor killing—you will really have everyone's attention!"
Arenberg, a noted author of medical works, now takes his first stab at nonfiction. He has served on the boards of several peer-reviewed journals and was made the youthful Associate Editor of the AMA Archives of Otolaryngology in 1968. He has edited six books, published 100 articles in peer-reviewed journals, and published or presented more than 500 abstracts, papers or book chapters on ear diseases, hearing, balance and tinnitus, and specifically Meniere's disease. He has lectured extensively in many countries and was a visiting professor at many distinguished medical schools and teaching hospitals. He founded and ran three non-profit organizations and has been awarded three international gold medal honor awards.
To learn more visit www.KillingVincent.com.
About Swedish
Swedish Medical Center, part of HCA's HealthONE, is located in the south metro Denver area where it has been a proud member of the community for more than 110 years. An acute care hospital with 408 licensed beds, annually Swedish cares for more than 200,000 patients with a team of approximately 2,000 dedicated employees, 300 volunteers and 1,400 physicians.
With stroke door to treatment times averaging just 20 minutes, Swedish serves as the Rocky Mountain Region's referral center for the most advanced stroke treatment, and was the state's first Joint Commission certified Comprehensive Stroke Center. Swedish also serves as the region's neurotrauma and orthopedic trauma provider and is the area's only level I trauma facility with a dedicated burn and reconstructive center. Over 150 facilities regularly transfer highly complex cases to Swedish.
Swedish Medical Center offers patients the highest quality care and the most advanced technologies and treatments in nearly every medical specialty including adult and pediatric emergency, heart care, neurology/neurosurgery, pregnancy and childbirth, orthopedics and joint replacement, cancer care, gastroenterology and liver care, gynecology and urology. Additional information about the hospital is available at www.SwedishHospital.com.