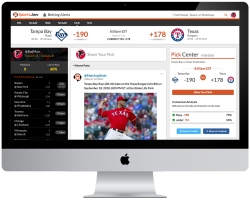 Austin, TX, November 21, 2018 --(
PR.com
)--
SportsJaw
is a new sports media company founded by Ryan Collins and Robert Guice of Austin, TX, and is the first social network designed specifically for sports bettors.
We Americans love our sports and we love talking about our sports and now more and more people are having these conversations on their phones. A battle has raged for years between social media sites on how to capture this elusive market around sporting events.
Social media posts like "Alabama is going to crush LSU on Saturday" or "Did you see Lebron make that shot!?" is a growing conversation on social media and the big players in this sector are aggressively wrangling for a larger share of this market. Unfortunately the current social media sites have missed the mark when it comes to fully engaging users around sporting events.
The problem with the current social media platforms is that the sports content is fragmented, hard to digest and not organized around one game- at least not until now. SportsJaw creates matchup pages for every game and uses a patent-pending technology to search all of the major social media and news websites to compile feeds of information on teams or games. With this new technology combined with user generated content, SportsJaw is able to build real-time relevant content like breaking news, odds, injuries, player rumors, stats and betting predictions for every matchup. SportsJaw 'sports matchups' is a one stop shop for sports betting news and game predictions, a true cornucopia of news for sports gamblers. SportsJaw is able to build a sports news experience for sports matchups that is second to none and appeals to a very large demographic.
SportsJaw matchups include:
NFL
,
NBA
,
NCAAF
,
NCAAB
and
MLB
sports events. PGA, MLS, European League Soccer and MMA are scheduled to be coming soon.
For the sports bettors, SportsJaw matchups enable users to share their betting predictions with the community and make their own predictions. SportsJaw crowd sources predictions from thousands of astute sports bettors and then shares the results with the tribe. The crowd consensus picks allow users to see which way the community is betting and easily follow the public betting trends. Users can chat about the games in real-time, connect with friends and share their betting predictions. Truly a one stop shop for sports fans and bettors alike.
SportsJaw has immediate plans to launch a virtual sports betting contest that will be free to play. The game concept will emulate sports betting where players grow their daily bankroll to earn points and win sponsored prizes. Early partners for the sponsored contest include Yeti Coolers, StubHub, and Criquet Shirts.
SportsJaw is wanting to become the social water cooler for sports bettors. Feedback from early adopters has some believing that it is very much on its way.