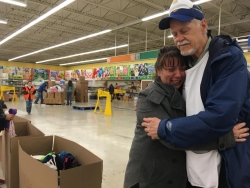 Chico, CA, November 25, 2018 --(
PR.com
)-- This Sunday, there will be a ceremony of all faiths to commemorate the work of the many volunteers at Miracle City these past two weeks. Organizers will also celebrate the hand-over of this facility to FEMA for expanded use as a regional warehouse and distribution center for long-term disaster recovery. This transition from leadership by local volunteers to experienced professionals marks the pivot from disaster relief to disaster recovery in the future of Paradise, Chico, and all of Butte county.
This ceremony will be a combination of personal testimony, and music from the many cultures who were involved with the miracles that occurred every day at Miracle City. Speakers from persons of the many faiths who participated in the operations and support of Miracle City will describe their experiences at Miracle City, and offer some music of their culture. Anticipated duration for this ceremony is 1 hour.
Working only as volunteers and using their own private funds, the many persons involved with Miracle City believe that they created a new and greater miracle every day in their work to bring supplies and comfort to refugees from Paradise and the Camp Fire. This facility was the only one of its kind serving evacuees; it began with just two volunteers and a truckload of donated clothing, and soon blossomed the #MiracleCity of Chico - a citizen-run distribution center serving thousands affected by the #CampFire. The story of the facility was documented on their blog
CaliforniaGiftOfMusic
(with the help of
KataMarketing
, a local company who stepped up to help them tell their story). A Facebook page for Miracle City and this closing event
can be viewed here
. Many tons of supplies were received and delivered to thousands of fire refugees who first gathered in the parking lot in front of Miracle City, and later when Butte county allowed organizers to move their operations inside this expansive facility.
Nearby businesses also got involved - next door Big Lots, for example, welcomed the thousands of volunteers and evacuees with open arms, helping to organize parking logistics, porta-potties, and other crucial issues of infrastructure.
It takes a miracle to celebrate a miracle, and before organizers move on to their "regular" lives, they hope to welcome FEMA to their world of life, love, hope and faith.