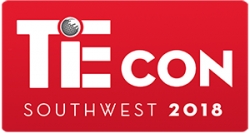 Los Angeles, CA, November 28, 2018 --(
PR.com
)-- TiECON Southwest 2018 is TiE Southern California's signature annual entrepreneurship conference bringing together nearly 1,000 entrepreneurs, investors, multi-disciplinary leaders and technologists.
Smita Bagla, TiE SoCal President, kicked off the conference by interviewing two well-known keynote speakers: Beerud Sheth, founder of Elance which is now Upwork (freelance-marketplace company), and Rakesh Mathur, founder of Junglee which was acquired by Amazon. The conference concluded with a final keynote from Erik Huberman, CEO of Hawke Media, where he discussed the exponential growth of his company and how his innovative "a-la-carte" marketing menu strategy has helped startups and large enterprises alike to realize their vision and take them to new heights.
As is tradition, TiECON judges evaluated startups pitching at the conference. Out of the 14 companies that were selected to pitch for Best Startup Idea, the winners were:
SkyHi: easily claim seats on flights in North America and Europe for one low monthly price.
OOTify: mental health marketplace that seamlessly connects providers to members looking to improve their mental health and wellness.
Chronus: portable device that allows for real-time diagnosis at the point-of-care providing lab results in minutes and dramatically improving time to care and patient outcomes.
After the conference, Smita had these remarks after the conference, "TiE is actively supporting entrepreneurs with bold visions. We are in the middle of a technology revolution and we captured the resulting excitement at TiECON this year. The energy was palatable and we have many events coming up going into 2019 that will continue to bring value to our TiE members and the entrepreneur ecosystem."
TiECON selected judges that included angel investors, venture capitalists and entrepreneurs. Summary of the companies that won below:
OOTify is tackling one of the world's biggest social challenges in mental health with their mobile application. The team highlighted the importance of technology to lower barriers to care among other issues that plague the industry, but also honed in on the importance of content and community to build a sustainable and scalable enterprise. Never has it been this easy to improve your mental health and without subscription fees - pay for what you want and nothing more to video, text or speak with a provider from anywhere you are. Free resources are always available in their community forums too. You can download their app at OOTify.com.
Another company that created buzz at TiECON was SkyHi, which looks to revolutionize the travel industry with their subscription flight membership that empowers consumers, airlines and the entire travel landscape to reduce systemic inefficiencies. With just a few guidelines, SkyHi is able to offer flights that get people where they want to go, without the hassle of booking weeks in advance. The company is part of Techstars', startup accelerator, Mobility Class of 2018. At SkyHi, you can become a member for just $199 a month. Once a member, you'll be able to take up to 5 one-way flights per month on any of their routes. Flights start at just $35. You can check them out at FlySkyHi.com.
Finally, Chronus Health, a Plug and Play company, painted a bright picture for the future of healthcare where the vast majority of patients no longer have to wait days for their diagnosis and treatment to begin. Having their device in ambulances will allow physicians to begin care the moment the patient arrives at the emergency room doors. Chronus brings higher quality care by significantly increasing patient outcomes and improving their experience.
These companies truly embodied the spirit of TiECON's theme of "Ride the Tech Wave". Although angel and venture capital investors judged the competition, 2018 is also on track to set a record for U.S. corporate involvement in venture deals with seed and early-stage rounds accounting for over 60% of corporate venture deal flow according to Crunchbase.
About TiE
TiE is a non-profit, global community welcoming entrepreneurs from all over the world. TiE believes in the power of ideas to change the face of entrepreneurship and growing businesses through their five pillars: mentoring, networking, educating, incubating and funding. TiE was founded in 1992 by a group of successful entrepreneurs and is currently the world's largest entrepreneurial organization. The values and beliefs of TiE reflect the culture and value system of Silicon Valley - entrepreneurship and wealth creation are invaluable human endeavors, and successful entrepreneurs find fulfillment in helping budding entrepreneurs.
About Hawke Media
Hawke Media is the fastest growing marketing agency in the United States. Launched in 2014, Hawke Media has been valued at $75 million and has grown from seven to over 130 employees. The company has serviced over 1000 brands of all sizes, ranging from startups like Tamara Mellon, SiO Beauty and Bottlekeeper to household names like Red Bull, Verizon Wireless and Alibaba. Hawke Media has taken home numerous industry awards including inclusion on the Inc. 5000 2017 list of "Fastest Growing Companies", Fortune Magazine's "50 Best Workplaces in Southern California" and Forbes' "Content Marketing Companies to Check Out in 2018."
About SkyHi
For decades, online travel agencies have promised to get us the right price for airfare. We spend hours searching and once we book, unsure if prices will change the next day. With SkyHi, you'll never experience that uncertainty again.
With just a few guidelines, SkyHi is able to offer flights that get you where you want to go, without the hassle of booking weeks in advance. No more pricing games. Fly each month for a flat rate, booking one-way flights starting at $35 each for the upcoming 10 days 5 flat rate flights each month
For more information, visit flyskyhi.com.
About OOTify
OOTify is a mental health marketplace powered by technology, content and community. The company is dedicated to enhancing our community's mental healthcare by connecting people with the right Provider for their needs through the power of artificial intelligence, telehealth, and uplifting content.
Available in both the App Store and Google Play, OOTify is a mobile application that streamlines the matching process utilizing a chatbot, and provides free anonymous consultations, instant Provider feedback and ratings, as well as a free online social community (The Fabric). Users avoid subscription fees and select a Provider whose rate fits within their budget. Providers are empowered to connect with users through OOTify's HIPAA-compliant audio, visual and text communication services, scheduling and billing tools, key client data metrics, and full rate and duration autonomy. For more information, please visit ootify.com
About Chronus
Chronus Health's portable device allows for real-time diagnosis at the point-of-care providing lab results in minutes, dramatically improving time to care and patient outcomes. They have cracked the code to the challenging problem of performing multiple blood tests on a low-cost portable platform. They have achieved this by leveraging microfluidics, semiconductors, electrical engineering, material science, computational biology, and data science!
The company's technology does not require optics (for measurements), reagent bottles (for storage), and pumps (for moving liquids). The entire analysis happens on a disposable test strip where sample preparation, fluid movement, and sensors are embedded. For more information, please visit chronushealth.com.